Per Erik Muskos is a man with a vision and it's a vision that involves sex and a whole lot of it.
A member of the Swedish Social Democrat Party, Muskos recently proposed the introduction of sex breaks at work as a means of improving wellness amongst employees and boosting child birth in the constituency of Overtornea, in the northern region of the city.
Featured Image VIA
"Childbirth should be encouraged," he told the Stockholm-based newspaper Aftonbladet:
When sex is also an excellent form of exercise with documented positive effects on well-being, the municipality should kill two birds with one stone and encourage employees to use their fitness hour to go home and have sex with their partner.
Muskos certainly makes some valid points. Regular sex has plenty of mental and physical benefits, whether it's "cleaning your pipes", boosting your immune system, improving mood and safeguarding against prostate cancer. But there are also flaws.
For starters, the idea of meeting up to have sex with a partner during your lunch hour every day isn't all that practical. It's rare for couples to work in similar locations and what about those who don't have a partner to do the dirty with? Do they miss out?
The reality is that, whether we like it or not, masturbation breaks are a much more sensible option.
Sure, in an ideal world it would be lovely to meet up with a partner for a bit of afternoon delight, but then it's a whole lot more convenient and accessible for one and all if you went "Han Solo" as it were.
And it's no secret that masturbation, in moderation, can actually improve your sex life, making you last longer in bed.
Thomas J. Walsh, M.D., a urologist at the University of Washington, previously explained to Men's Health how regular masturbation represents a possible remedy to the problem of premature ejaculation, allowing men to better manage the physical sensations they may feel during sex.
Nottingham Trent University psychologist Mark Sergeant also highlighted the mental benefits during an interview with Metro, noting it could be a "great form of self-motivational reward" for employees on completion of a specific task or work-based target.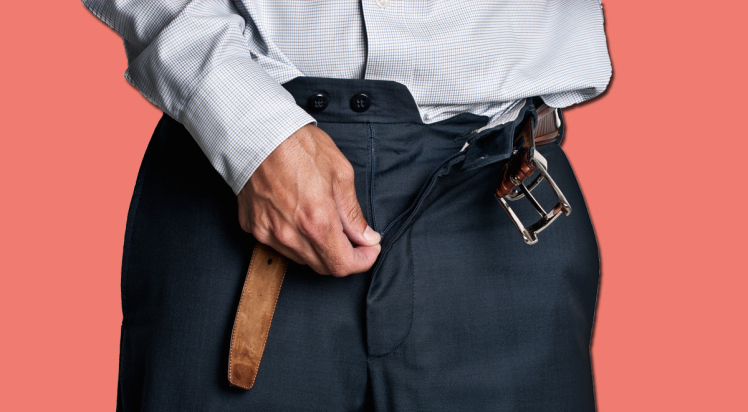 The benefits could go beyond that too with fellow psychologist Cliff Arnall arguing that a masturbation policy could result in "more focus, less aggression, higher productivity, and more smiling" which wouldn't be a bad thing in the workplace.
Obviously, there is the potential for some issues – doing over a fellow co-worker could have psychological implications while those with a particular kink could expose a little too much to their colleagues if you catch our drift – but the positives far outweigh the negatives.
There would be some other considerations to make. For example, workplaces would need to create a clean, designated area for this sort of thing, rather than force people to head home to use the facilities (or in their car). But if everyone is given a specific slot, as it were, then it could work.
The revolution may have already begun too. One recent survey by Guyfi (admittedly a masturbation booth pop-up company) revealed that around 40% of New Yorkers already masturbate during the working day. The big challenge now is removing the stigma attached to something pretty much everyone does.
We live in a society where smoking breaks – a practice with few benefits and plenty of health risks – are widely accepted as the norm. How much of a stretch would it be to offer workers an altogether different kind of "comfort break"?
For more on this topic, click HERE.