You may have heard of 12-year-old drag queen 'Desmond Is Amazing'. 
Featured Image VIA
Desmond Napolas has become something of a sensation and a mascot for the LGBT community, having appeared on shows like 'Good Morning America'. There's also a video of him from when he was 11-years-old dancing on stage at popular NYC gay bar '3 Dollar Bill' while grown men throw dollar bills at him. 
View this post on Instagram
You might watch that video and think it's no big deal; just an 11-year-old drag queen putting on a show, and there's an argument to be made for that (which we'll get to). Other commentators like The American Conservative's Rod Dreher described it as "a manifestation of paedophilia, straight up."
Devin Norielle of 'Out' magazine disagrees:
Conservative media is unleashing a firestorm of misleading and fabricated news articles claiming that Desmond's work as a drag performer is child abuse because, they claim, his performances are sexual and he receives tips.

These arguments are dangerous; conservative media has associated Desmond's performance of drag with sexuality simply because he transgresses the binary and opts to express his femininity. Newsflash: gender identity and sexuality are not one and the same. Desmond's exploration and toying of gender is not a discovery of his sexual attractions, nor is it a tactic to invite the sexual desires of others.
Two very different takes there. Well fast forward to June this year and Desmond's mum, who manages him, is now outraged that her son's performance "invited the sexual desires of others."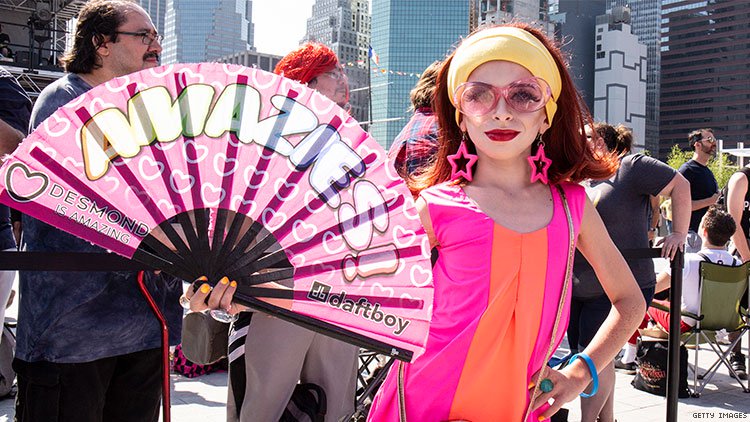 Tom O'Carroll is a British pedophile rights campaigner who has been convicted of distributing child pornography on a massive scale. Back in May in a blog post for his WordPress site – which is openly pro-paedophile – O'Carrol declares that "Desmond is truly amazing — and hot!" 
Yikes. Here's the rest of what he wrote (WARNING – it's seriously screwed up):
Let's face it, when a pretty young boy tells the world he is gay and dances sensuously in front of grown men, wearing vampish dresses and makeup; when 'she' strips off items of clothing or goes on stage scantily clad right from the off; when dollar bills are accepted as 'tips' from an audience apparently wild with excitement; when all this is going on we are getting far more than just a celebration of gender diversity or an innocent display of precocious performance talent.

And that's great. It is wonderful that a rare niche has been found in the modern, developed world within which at least a few kids can truly be themselves, in ways that deny neither their gender feelings nor their sexuality. Being a drag queen, or a drag princess if you will, puts it right out there, in the open for all to see. It says, loud and proud, 'I am a sexy kid, with sexy feelings. It's totally cool for grown-ups to get turned on by me. I love it. That's why I do this stuff. It's great. It's fun. It's me!'
Desmond's mum, Wendy Napolas, understandably lost the plot when she read O'Carroll drooling over her son (and another child performer named 'Queen Lactatia'). 
Wendy says:
This is extremely disturbing. Convicted pedophile Tom O'Carroll has written a blog post stating that Desmond is hot & feels sexy performing. He also sexualizes fellow drag kid Queen Lactatia. We do not approve of his statements & have written to @wordpressdotcom several times but they have yet to remove it. It is highly inappropriate to speak of minors in this manner.
Here's the full Instagram post she shared, screenshotting a section of O'Carroll's article:
Obviously, you'd hope, any parent who heard an adult talking about their preteen child in this way would feel all kinds of rage and terror. The maddest part though is how Wendy (or anyone else encouraging and celebrating Desmond's stage performances and publicity) didn't see this coming.
I'm not saying that his mum or the gay bar wilfully sexualised Desmond by allowing him to perform on stage, but it's pretty damn ignorant to not consider that there are paedophiles out there who WILL sexualise him when he's up there performing in drag and having dollar bills thrown at him. Now does that mean the kid should stop performing if that's what he really wants to do?
It would be interesting to know how Desmond feels about all this, or how he might feel about it a few years down the road when he's an adult himself. More pressingly, will the Desmond Is Amazing show carry on as normal now his mum's eyes have been opened to the dangers?
For the time the 'Predator Hunters' vigilante group confronted a paedophile while he was wearing his Batman pyjamas, click HERE.