Deontay Wilder really cocked up this week following his TKO loss to Tyson Fury at the weekend, claiming that the reason he lost the fight was because his 40-pound entrance gear knackered him on the way to the ring.
Featured Image VIA
I guess he must have forgot that he went on Joe Rogan in 2018 and said that he does "everything" training-wise wearing a 45-pound vest. Whoops:
Deontay Wilder confirms during a guest appearance on @joerogan podcast in December 2018 that he specifically trains wearing a "45-pound vest" to carry extra weight to activate his "twitch muscles"🤔

Bizarre then that his ring costume weighing an alleged 40 pounds is blamed? pic.twitter.com/qwWMLuG7sc

— Against The Ropes (@ATRboxinguk) February 26, 2020
Wilder's trainer Jay Deas had originally made the claim that Wilder's legs had been weakened by the entrance attire and then Wilder said the same in a later interview:
He didn't hurt me at all, but the simple fact is… that my uniform was way too heavy for me.

It could easily be told that I didn't have legs or anything. A lot of people were telling me, 'It looked like something was wrong with you.' Something was, but when you're in the ring, you have to bluff a lot of things.

I tried my best to do so. I knew I didn't have the legs because of my uniform.
I was only able to put it on [for the first time] the night before but I didn't think it was going to be that heavy. It weighed 40, 40-some pounds with the helmet and all the batteries.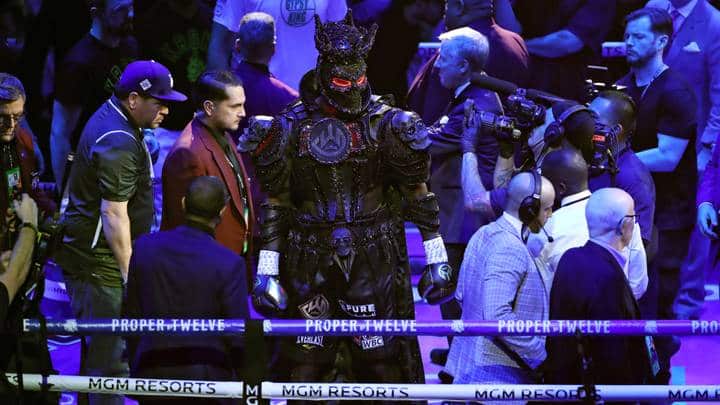 I mean we already knew that his entrance attire had nothing to do with the loss at all, but it's good to have this old clip which proves Wilder is talking out of his arse one way or another.
Although it could be that he's only blaming the costume and coming up with all these excuses as a way to justify a rematch for a third and final fight? Wouldn't surprise me in the slightest TBH.
For another one of Deontay Wilder's conspiracy theories about the fight, click HERE. He's really struggling to accept the loss isn't he?