The aftermath of what people are calling the biggest heavyweight boxing match of all time on Saturday night is still being felt all over the world and Deontay Wilder is still coming up with excuses for his corner throwing in the towel, insisting that he was fine to continue even though he clearly wasn't.
Featured Image VIA 
Speaking to Boxing Scene, Wilder revealed this new conspiracy theory about what was going on in his corner, even introducing it by saying it wasn't a conspiracy theory – that normally means whatever the person is gonna say is definitely a conspiracy theory. Anyway,  it basically comes down to the fact that another boxer named Anthony Dirrell was sitting near his corner during the fight and Dirrell (pictured below) also works with Tyson Fury's trainer, Javan 'SugarHill' Steward, so he was obviously rooting for Fury and screaming to Wilder's corner to stop the fight when it looked like he was in trouble, influencing them to throw in the towel.
Sure, that doesn't sound like a conspiracy theory does it? Hmmmm. Here's what Wilder had to say exactly: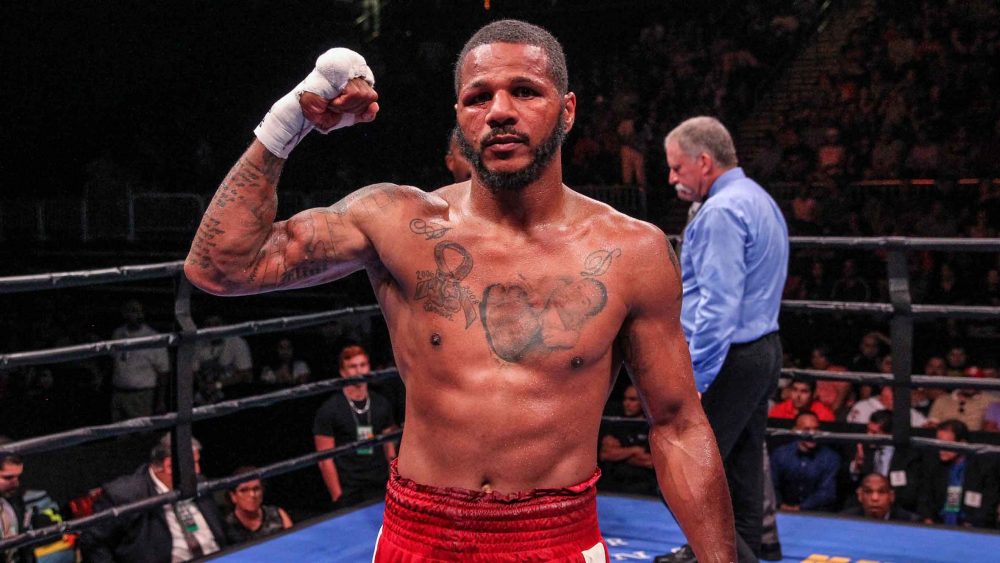 It's a human, immediate reaction, like, 'I didn't wanna see you get hurt.'

But I was hurt way more in the first [Luis] Ortiz fight than in this situation. I still had my mind. I still knew what I was doing at certain times. I still knew how to move around the ring.

Although I didn't have the legs, I knew how to move around the ring. S**t, I was 42-0, you know, 10 consecutive title defences. I know what I'm doing in there.

It may look a certain type of way, but when you're talking about a Deontay Wilder, I'm never out of a fight because of my tremendous power. We've seen that many a times. I'm never out of a fight. And I'd rather go out on my shield and my sword than anything.

You know, by [Breland] knowing that and then Jay [Deas], which is the head trainer, Jay told him not to do so. He still proceeded with it. It's kinda hurtful, man. It really makes you think about different things. I don't wanna put negative thoughts in my head or have any kind of conspiracy theories going on, but it makes you think.

Somebody that did not something that's not up to him, and even when they're instructed not to, they still proceeded on.

And then getting influenced by the opposite team, one of the guys that train with the opposite trainer, you know, it makes you think.

He was influenced by Dirrell. They said Dirrell was in back of him screaming, 'Throw the towel in! We love our champ!' And, you know, [Anthony] works with 'Sugar' as well, the opposite trainer, Tyson's trainer.

[Dirrell] works with him, too. [Breland] said he didn't hear nothing, but everybody's saying the same thing.

A lot of people that's around, a lot of people that was in my camp, and if everybody's hearing it and if my people in the corner can hear him, and Mark said he can't hear [him], there's something wrong with that.

It's a lot going on with Mark as well. But, you know, we're gonna make a big decision by the time I come back from Africa. And we're gonna go from there.
I mean that's definitely a conspiracy theory isn't it? And even for one of this it really is grasping at straws isn't it, even more than the stupid excuse about his costume being too heavy for his ring walk? I suppose you have to come up with something as to why you lost in boxing so that the rematch carries some interest but it's probably better to just say something like your training camp was rubbish or something rather than coming up with these kinda crazy claims like Wilder has. Just saying.
For more of the same, here's Wilder firing the trainer that threw in the towel. Really is taking no prisoners with this shit.