There is nothing Dennis Rodman can do that would surprise anyone at this point, but this story he told The Breakfast Club earlier is one of the craziest Dennis Rodman stories ever.
Featured Image VIA
Rodman opened up about his 1993 relationship with the "Material Girl" and said she offered him $20 million to impregnate her.
He was in Las Vegas playing Blackjack when Madonna called him out of nowhere:
She said, 'Dennis, you know that I'm ovulating.

I said, 'What is that?' I was trying to f–k with her, you know?"
What did Dennis do? He immediately boarded a private jet that Madonna sent to pick him up, flew to her New York home, banged her, then got back on the jet and returned to Vegas to finish his gambling. Seriously.
She asked me that if I got her pregnant, she'd pay me $20 million.

That's if the child was born.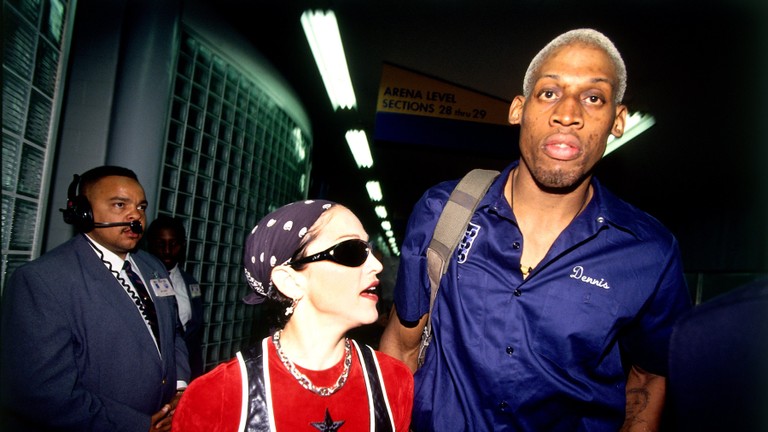 Is it possible Dennis Rodman is chatting shit here? Yup. But I do really want to believe this is true because the idea of Madonna booty calling Dennis Rodman and asking him to get her pregnant and Rodman knocking his chips off the table and speeding to the airport so he can get on a jet and bang her before returning to Vegas to continue gambling is just too perfect to not be true.
Watch for yourself around the 11:47 mark:
Looks like he didn't cash in though because Madonna never had his kid… that we know of.
P.S. No wonder Kim Jong-un wants to be best friends with him.