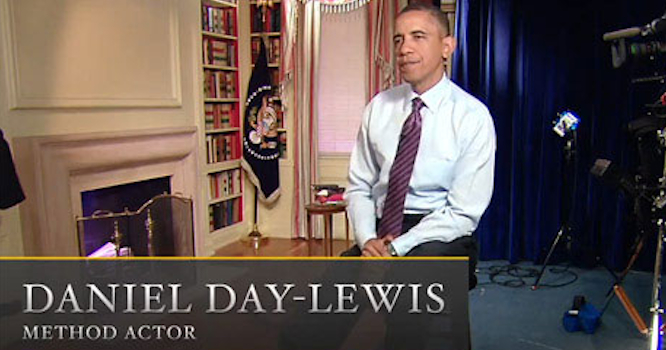 If you don't know what the White House Correspondent's Dinner (I didn't either, don't feel bad) is then it's basically when a bunch of journalists who cover the White House get together somewhere in Washington and get wasted. The President and Vice President usually attend and it just seems like an excuse to make some jokes and have a LOL and get wasted, which is fine by me because everyone needs to let their hair down sometimes sure. Especially those with the toughest jobs in the world, right?
It seems like this video was especially made for the dinner to give everyone there a laugh at some point during the night. Basically, it begins with Steven Spielberg talking about how he was so stoked about the success of Lincoln and that he knew he wanted to make another biopic of an American President, but wasn't sure who to pick, until he finally settled on Barack Obama.
Spielberg was unsure as to who would be the right actor to play Obama because he saw it as such a challenging role. That is until he realised that there was only one man who was capable of fully immersing himself in the role and providing the performance that he required and that man was Daniel Day Lewis.
It starts to get pretty funny around then and you realise that it isn't actually a real interview, and it gets even funnier when they bring in Daniel Day Lewis dressed up as Barack Obama because it IS actually Barack Obama himself, pretending to be Daniel Day Lewis dressed up as Barack Obama. Headfuck?
Not really but it's still kind of funny, and Barack is pretty funny in the interview parodying himself, and it's cool that he even finds the time to do this kind of stuff. I guess that's why most people – except for stupid Republicans like Donald Trump –  love him and why he managed to get re-elected.
Check out the video here:
☛ More Reasons Why Barack Obama Is A Complete G: 
Barack Obama Used To Be A Stoner 
Barack Obama Drove The Sickest Car Ever To His Inauguration 
Barack Obama Takes Part In Ask Me Anything On Reddit
[yframe url='http://www.youtube.com/watch?v=-52sM4DYdBc']