This is pretty awesome and I have to give a shout out to Luke Geoghegan for giving us the heads up on it. And it isn't just because Curtis Woodhouse used to play for Birmingham City – I didn't even think he was very good so I'm not surprised he hung up his boots for a pair of boxing gloves, although I am slightly surprised that he turned out to be any good at something else. Anyway, this isn't about Curtis Woodhouse's career change (although I'm sure that would make for a fascinating article, not) it's about how he ruthlessly decimated some guy who was trolling him on Twitter, which is always a completely awesome story.
So here's what went down. Curtis Woodhouse is apparently doing OK at boxing which is kind of surprising considering he was kinda crappy at football and changed sports when he was 26, as he was the English light welterweight champion until last week when he lost the title to someone else on a points decision. Obviously being a professional athlete on Twitter you're going to be subjected to some abuse when you lose or mess up and this was no different, with one Twitter user who called himself 'the master' (cool name dickwad) @jimmyob88. Let's take a look at what he said huh?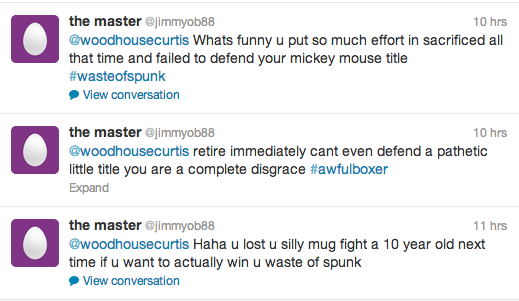 Ouch! Pretty cutting huh? But I guess nothing that you probably wouldn't be used to if you were a professional athlete on Twitter. Although having said that Curtis Woodhouse only had about 13K followers so maybe he wasn't so used to getting trolled. Either way he wasn't happy. So what did he decide to do? He decided to find out where 'the master' lived and track him down and go and confront him. And oh yeah, he also decided to LIVE TWEET himself doing that. Now, if that wasn't one of the best uses for Twitter since its inception then I don't know what has been better. Everyone following them both had a great day as they watched the events unfold in REAL TIME. Man, I love real time. It's just like being actually there, you know?
He started out by trying to find out where 'the master' lived via Twitter. Pretty smart:
☛ More Celebrity Idiots On Twitter: Lewis Hamilton Is An Idiot On Twitter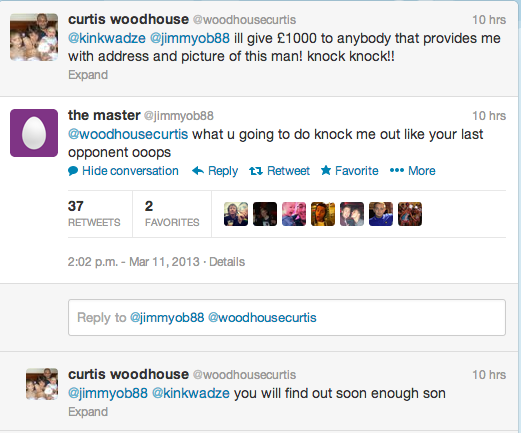 It wasn't long until he had the information and he told 'the master' that he was coming round to his house for a brew. At this point 'the master' stops trolling and actually starts to back off a bit, although in fairness to the guy I probably would be kinda scared if a professional boxer told me on Twitter that he was coming round to my house, especially after I had just called him a waste of spunk. Check it out below: