After the 'success'/notoriety of the cereal cafe on Brick Lane in London, a guy called Andrew McMenamin decided to add a pop up crisp sandwich restaurant to his cafe, The Wee Cafe, in Belfast. Unbelievably, it sold out of its entire stock within just two hours of being open.
I have been told it is the world's first.

It is a school thing, people remember it from their school days, it is a classic and it is old-school.

We are riding on the back of the publicity the cereal cafe got in London – if it helps us and Ulster Fry (a satirical Irish website that spoofed the cereal cafe when it first opened) then it's a good thing.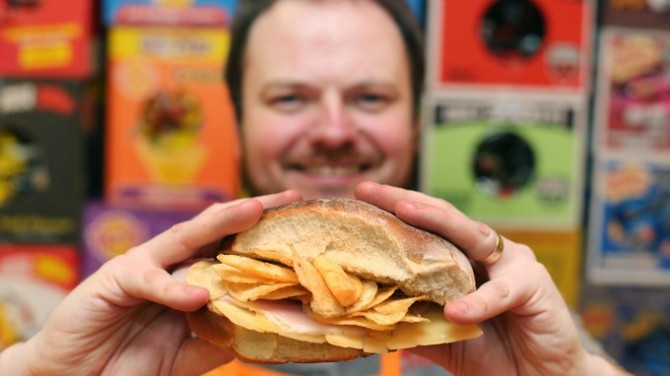 The cafe boasted 35 different flavours of crisps – mainly the Irish brand Tayto but also classics like Walkers, Monster Munch and Frazzles – as well as a variety of different breads and sauces. Customers can choose a combination of these three and also have the option of adding cheese or ham to their sandwich too. A bap came to about £3 – which is way more reasonably priced than the cereal cafe in London.
A wide demographic of customers appeared in the shop on its opening day yesterday, with teenagers and those in their 20s being joined by older business types yearning for the nostalgia of their youth. The venture was so popular that queues were spiralling out of the door and onto the street. Cheese and onion crisp sandwiches were the most popular delicacy on offer.
The pop up is scheduled to stay open for three or four weeks, but after the success of yesterday McMenamim is considering keeping it open for a longer period. As it's the only one in the world we're thinking that he probably should – it's probably got more chance of being successful long term than the cereal cafe, that's for sure.