There aren't many big names out there keen to share their support for Donald Trump in public (and for good reason – just ask Vince Vaughn), but Conor McGregor has now done so after replying to Trump's MLK Day Tweet to let him know that he's a fan.
Featured Image VIA
Here's what McGregor Tweeted:
Phenomenal President. Quite possibly the USA 🐐. Most certainly one of them anyway, as he sits atop the shoulders of many amazing giants that came before him. No easy feet.
Early stages of term also.
Incredible.
Congrats and Happy Martin Luther King Jr. day America 🇺🇸❤️🇮🇪

— Conor McGregor (@TheNotoriousMMA) January 21, 2020
Trump returned the favour with some praise of his own:
Congratulations on your big @UFC WIN! https://t.co/135dOECsEf

— Donald J. Trump (@realDonaldTrump) January 21, 2020
As you might expect, this interaction immediately sent Twitter into meltdown, with a section of people swearing they will never buy a Conor McGregor fight again while others let him know they just became huge fans of his. Gotta love partisan politics eh?
Here's some of the reaction:
Just got off the McGregor bus, I was a huge fan until this tweet, I'm sure this will cost you more fans than any fight you lose.

Team Masdival, Khabib, Usman or anyone who fights you now!!!

— Flush the orange turd (@Cotumarre) January 21, 2020
Have u already forget where you've come from? At one point, you were on government cheese. There are people like u here too, Conor. Just bcuz ur income is endless now, doesn't mean you can be careless w/ your voice & influence. He is a POS, and I'm beginning to think you are too

— Martin (@mar_sharingan) January 21, 2020
If fairness the two of you do have a lot in common:-
1. both driven by greedy/money
2. Both drug addicts
3. Both racists
4. Both partial to a bit of rape
5. Both have dodgy hair

— Colm Moloney (@Colm_Moloney) January 21, 2020
Mcgregor just KO'd the libs

— Colby Covington Fan Club (@vibfun239) January 21, 2020
Wow literally the first athlete/celebrity that had the guts to praise trump ! Thank you 🙏

— david (@daveyyyyyyyyyyy) January 21, 2020
Greatness recognizes greatness.

— CJ Pearson (@thecjpearson) January 21, 2020
Fair play to McGregor for having the balls to Tweet that (if that's how he really feels). He must have known about the shit-storm that would follow but clearly doesn't care one bit. Let's not forget, he and Donnie have some mutual friends after all: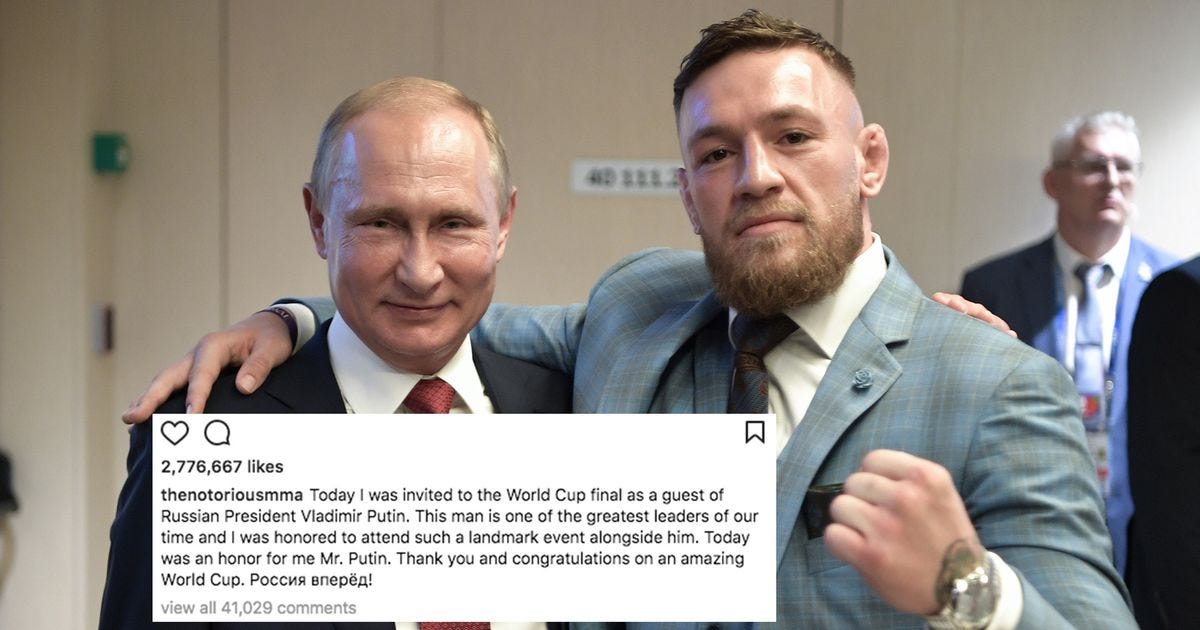 I think it's a bit sad to either endorse or hate on an athlete based on a political opinion or affiliation, but I guess some people can't bring themselves to separate the fighter and entertainer from the man outside it.
I mean if this is the line where you decide you're no longer a Conor McGregor fan, does that mean you were OK with the (alleged) sexual assaults or the fact he punched an old man's face off at the pub?
Just another example of how politics ruins everything IMO. Could care less what the guy thinks of Trump – just want to see him back in the cage against Masvidal or Khabib part 2 ASAP.