Well it looks like Conor McGregor has a successful round of surgery following his devastating leg break at UFC 264 last weekend, and he shared a little update on IG earlier while riding around the streets of Cali on a scooter.
No death threats, no shagging his opponent's wives, no gun fingers to the head – just a little update on his condition and a couple laughs too…
View this post on Instagram
So obviously the most interesting revelation in that video is that Dana White and the UFC doctors almost cancelled the UFC 264 main event between Conor and Dustin Poirier because of the stress fracture found in Conor's ankle, which he believes contributed to the eventual break. Pretty insane if true… or is it just another excuse? Who knows. The disappointment if they'd pulled the fight would've been immense, but in hindsight, maybe it would have been the right call?
Either way, McGregor sounds very motivated to heal up and recover properly so he can get back in the gym and start training for his UFC return. Loving the shots of him riding round the block with his leg propped up too…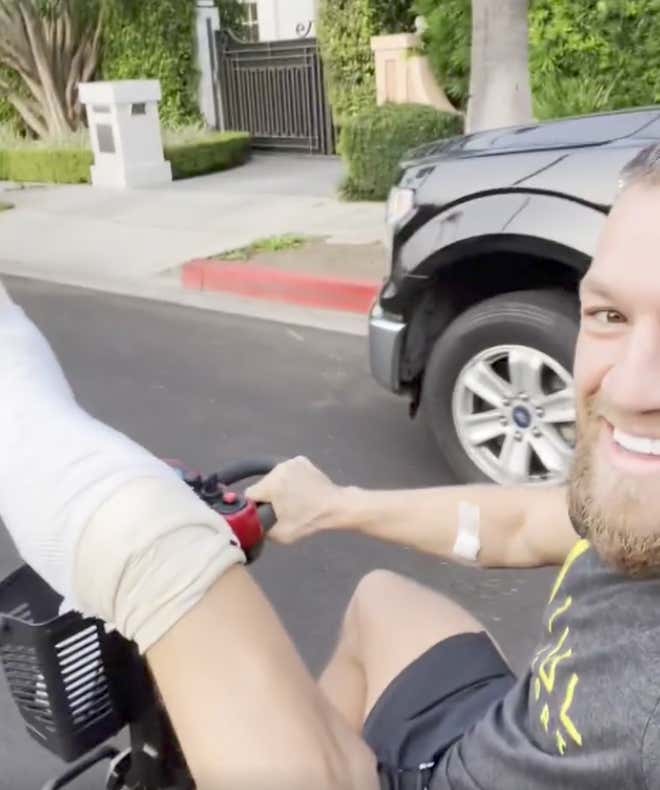 Lol. Imagine living on some street in Cali and seeing Conor McGregor ride past your house like that just a few days after brutally snapping his leg in the Octagon?
Seems he's pretty happy about his new Terminator-style bionic leg too. Imagine if he returns and starts obliterating people with that thing? New bionic Conor McGregor could be a real force to be reckoned with. Maybe it's what he needed all along to get back to the top of the MMA game. Go Conor Go!
For the unfortunate Tweets Conor has been sending to Dustin Poirier's family, including his daughter, following his loss last weekend, click HERE. Dude's a real bastard when he wants to be.