We're well into March now and it's what, three months now until lockdown looks like it might be well and truly over, so you know that you're going to need something in stock for when you wake up in the morning after partying for a whole week straight in the summer when you're allowed to go out again. You know that's what you're gonna be doing.
Featured Image VIA
Anyway, what would be better for this than your own Nando's Bloody Mary Cocktail Kit? We've teamed up with Nando's to celebrate the launch of their new Vusa XX Hot Peri Peri sauce – their hottest hot sauce ever – and we're giving away 15 of these kits and it's very easy for you to enter. All you have to do is go to one our social media platforms – Facebook, Twitter or Instagram – and tag one of your mates in the post.
It's that easy! And then you'll be sorted for all your hangover needs this summer.
Or maybe you can use it earlier if you're breaking the rules and having your own lil lockdown parties? Not that we're endorsing that or anything of course.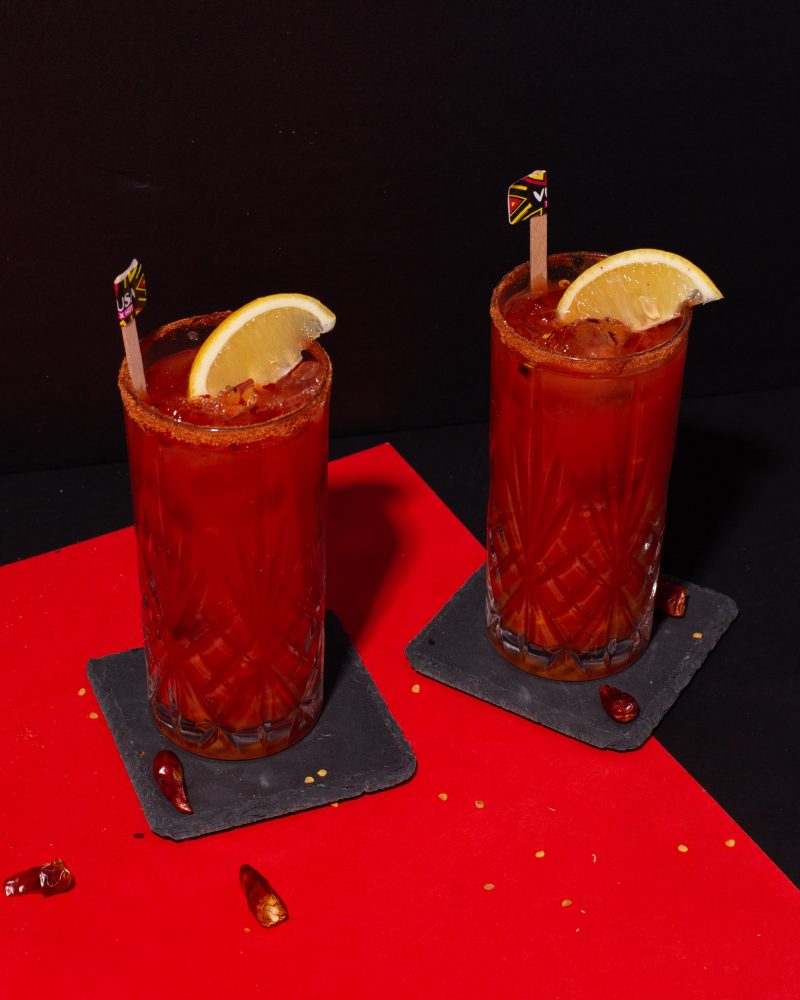 Sorry to be boring, but we also have to include these Terms and Conditions:
This Promotion is only open to people who have taken part in the SickChirpse x Nando's VUSA Bloody Mary Kit (BMK) competition. Entrants must be residents of the United Kingdom and aged 18 or over, excluding the Promoter's employees and anyone professionally connected with this Promotion.
Promotion Period: Between 4th March and 11th March.
Eligibility: The promotion is only available to those that entered the competition using the tag-a-friend mechanic on Instagram during the competition period. Competition winners will we be randomly selected. The Promoter reserves the right to verify to eligibility of the entrants upon selecting the winners.
15 VUSA BMK's are available as the reward for the competition winners. Maximum of 1 kit per competition winner, all items included are free of charge. Each kit contains, 1x Nando's Vusa Sauce 125g, 1x VUSA Vodka 50ml, 1xCawstons Tomato Juice 1L, 1x Bag of Dried chillies, 1x Lemon, 2x Glasses, 1x Nando's Insulated Reusable bag.
The free VUSA BMK prize is not transferable or exchangeable and cannot be redeemed for monetary value or for any other form of compensation.
If for any reason any aspect of this Promotion is not capable of running as planned due to any cause beyond the control of the Promoter which corrupts or affects the administration, security, fairness, integrity or proper conduct of this Promotion, the Promoter reserves the right to cancel, terminate, modify or suspend the Promotion or invalidate any affected participation.
The Promoter and any associated agencies and companies will not be liable for any loss (including indirect, special or consequential loss or loss of profits), expense or damage which is suffered or sustained (whether or not arising from any person's negligence) in connection with this Promotion or accepting or Nando's VUSA BMK, except for any liability which cannot be excluded by law.Nothing will exclude our liability for death or personal injury as a result of our negligence.
Bulk participation from trade, consumer groups or third parties will not be accepted. Incomplete participation which does not satisfy the requirements of these Terms & Conditions in full will be disqualified and will not be eligible to claim a VUSA Bloody Mary Kit.
If an act, omission, event or circumstance occurs which is beyond the reasonable control of the Promoter and which prevents the Promoter from complying with these Terms and Conditions the Promoter will not be liable for any failure to perform or delay in performing its obligations.
Any personal data which relates to participants will only be used for this Promotion and to facilitate their order by the Promoter and/or by any agent appointed by it to assist with running of the Promotion and services on behalf of the Promoter unless the Promoter has the participants' positive consent. Participants' personal data will be handled in accordance with the Promoter's privacy policy, available at: https://www.nandos.co.uk/privacy-policy
If any provisions of these Terms & Conditions are judged to be invalid, illegal or unenforceable, this shall not affect or impact the continuation in full force and effect the remainder of the provisions.
By participating in this Promotion, participants agree to be bound by these Terms & Conditions.
In the event of a discrepancy between these Terms & Conditions and the details in any promotional material, the details in the Terms & Conditions shall prevail.
These Terms & Conditions are governed by English law and their interpretation and application shall be subject to the exclusive jurisdiction of the courts of England and Wales.
If you've actually read through all of that, then here's that time that The Undertaker was spotted in Nando's. Lol.