It looks like no one is safe from the online mob these days as a whole bunch of people on Twitter have bizarrely accused model Chrissy Teigen of being involved in a sex trafficking ring and have linked her to Jeffrey Epstein and Ghislaine Maxwell.
Featured Image VIA
As reported by Metro, the conspiracy theory claims that Chrissy had once traveled on Jeffrey Epstein's private plane and was part of his recruitment ring, alongside husband John Legend, despite Chrissy maintaining she has never had anything to do with him.
As usual, a bunch of people then dug up her old Tweets for more "proof":
Guilty as fuck who the fuck thinks this? pic.twitter.com/AvKvTjQiy4

— BANKS 🦍 (@Bankslvrd) July 15, 2020
Wasn't it sick how you deleted 29k+ Tweets in one day? They all had a weird theme…now what was it?#chrissyteigen https://t.co/U6ESE2yAdn pic.twitter.com/NfkIvYxxM8

— Graham Wilberforce (@dru_mn) July 15, 2020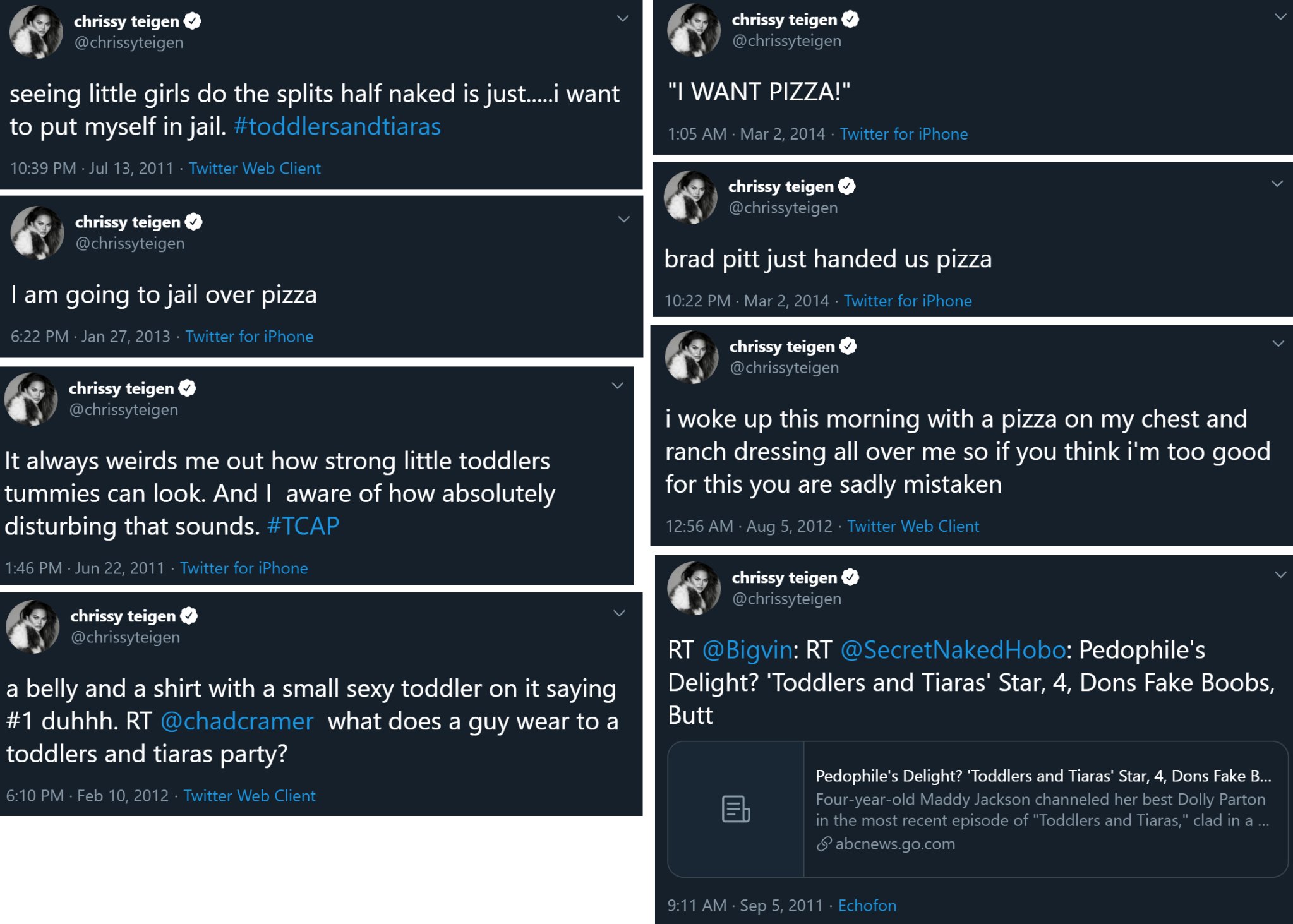 The pizza Tweets have obviously been interpreted as having something to do with the famous Pizzagate conspiracy theory which also linked Hillary Clinton to Jeffrey Epstein.
Weird Tweets overall? For sure. Proof that she's a paedophile or in any way involved in Jeffrey Epstein's trafficking ring? Come on now, let's be serious.
Chrissy responded to claims she had deleted 28,000+ Tweets by pointing out she had actually deleted 60,000+: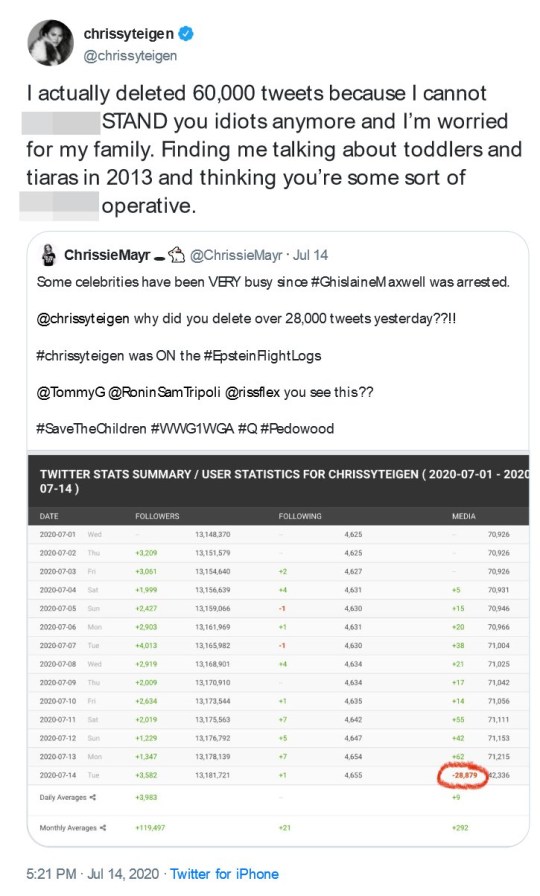 You might say deleting all those Tweets gave the trolls more ammunition and reason to be suspicious of her, but I can see why she did it. Naturally, Chrissy isn't taking the accusations lightly:
this I don't get. everyone thinking I'm guilty because I'm defensive. You understand you are calling me a pedophile, correct? https://t.co/QgOyRgMmLi

— chrissy teigen (@chrissyteigen) July 14, 2020
when pedo ghislaine sings like a canary (if she doesn't die) and we have nothing to do eith this, I know for a fact it won't go away. They'll just think of another excuse. It is extremely disheartening. I don't know how to stop this. i don't think anyone quite gets it

— chrissy teigen (@chrissyteigen) July 14, 2020
Earlier today, Chrissy added that she had blocked over ONE MILLION people on Twitter who were trolling her, which sounds like an insane amount of people to hit the Block button on. Surely it's easier just deleting your account by that point?
I have block chained over one million people, ONE MILLION people today and I am still flooded with sick psychopaths. So please, spare me the "just ignore them, they're just trolls"

— chrissy teigen (@chrissyteigen) July 15, 2020
She also explained that she deleted the old Tweets because she was 'worried' about her family given that so many psychos out there genuinely believe she's involved in a paedophile ring. What's interesting is that Chrissy Teigen is one of the more "woke" personalities on Twitter who is always going on about one social justice cause or the other so the fact that the mob came after her too just goes to show that no one is safe. As awesome as social media can be it truly is a toxic place sometimes.
Previously, Chrissy Teigen ripped into trolls who dissed her 'square body' on Twitter. Happier times I guess…