Model Chrissy Teigen is insanely hot so I don't even know how anyone could slate her body, but they did it anyhow about her recent appearance in the Sports Illustrated Swimsuit Edition.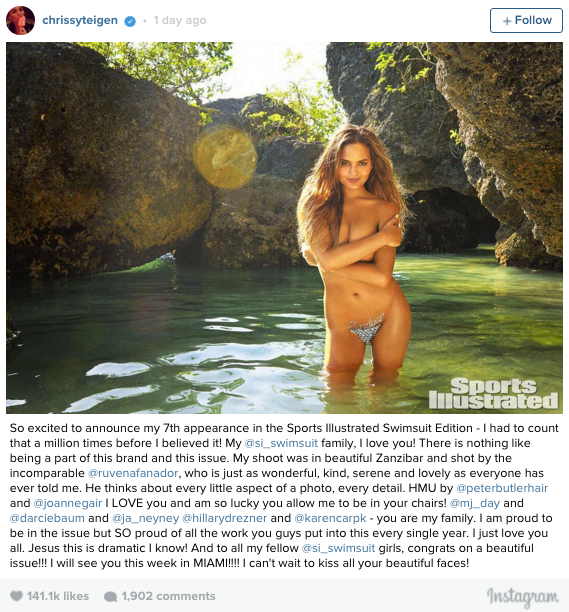 She uploaded two of the shots onto her Instagram account, where she wrote:
So excited to announce my 7th appearance in the Sports Illustrated Swimsuit Edition – I had to count that a million times before I believed it! My @si_swimsuit family, I love you! There is nothing like being a part of this brand and this issue.
She looks great all naked and tanned, but you know, trolls are trolls and several of them just had to have a dig. One guy wrote:
She's pretty but has a very funny shape.
Other people said that she still looked pregnant. Are they having a laugh? Where?
Chrissy obviously agreed that this is utter bullshit, so she decided to make the ultimate comeback to all of the haters: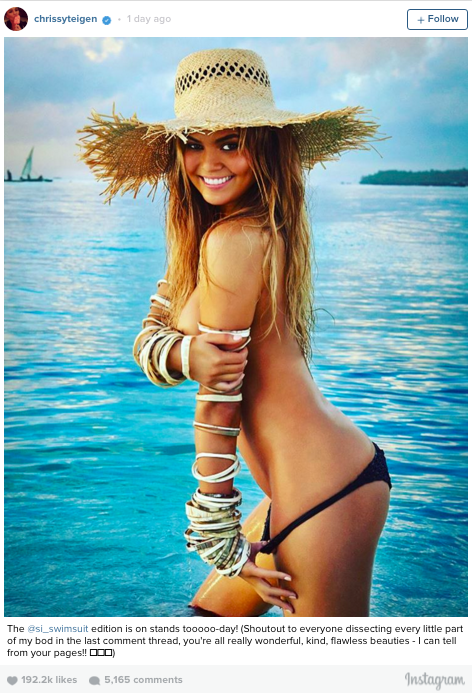 The post says:
The @si_swimsuit edition is on stands tooooo-day!' (Shoutout to everyone dissecting every little part of my bod in the last comment thread, you're all really wonderful, kind, flawless beauties – I can tell from your pages!!)
Burn. In one fell swoop she managed to dismiss all those idiots without looking pissed off or bitter. She's got nearly as much sass at that prostitute that shut down all her haters on FB.