I'm not sure that you really need to improve too much only our traditional English fish and chip recipe, but given the recent innovative nature of the restaurant business it seems as though the guys at Millers Fish and Chips in Haxby near York are more than willing to try.
Images VIA
The gang have decided to come up with what they're terming 'The World's Spiciest Fish And Chips' having devised a cod fillet that's seasoned with ten different spicy ingredients including chilli powder, dried chillies, cayenne pepper, chilli flakes – you get the idea – and then doused in hot sauce and chillies. It's accompanied by some Seabrook's Scorchin' Hot Trinidad Scorpion Chilli Crisps, which are thought to be the hottest on the market.
Here's what 29 year old shop owner Nick Miller had to say about it: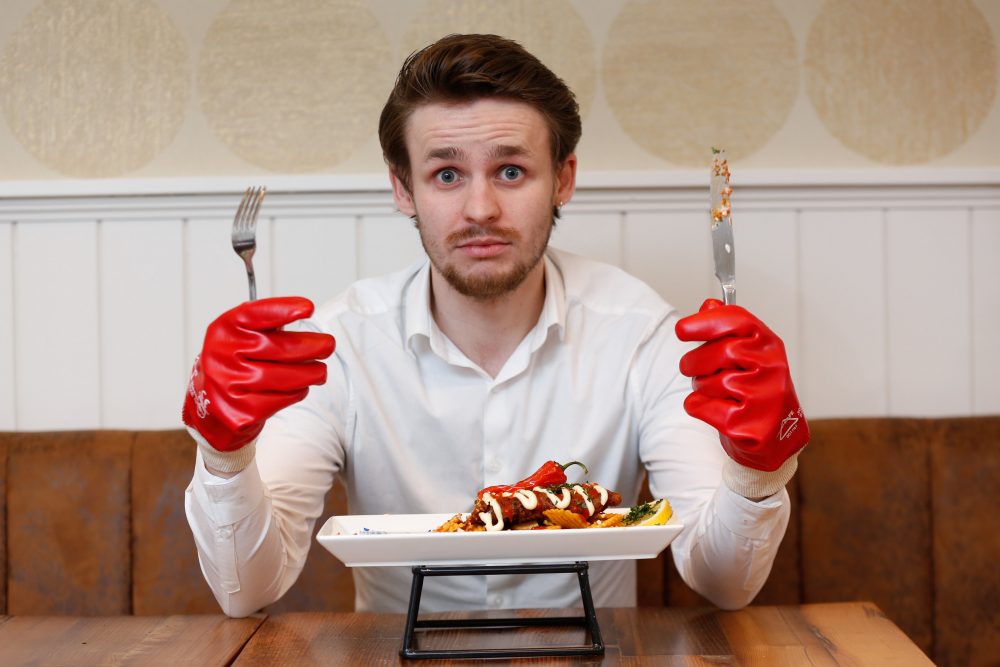 It's important to offer something a bit different now and again. We've ended up with a battered fillet which tastes incredible but is ridiculously spicy.

I'm slightly scared to see what happens once customers start ordering it.

We've already tried it out with a few customers who said they were lovers of spicy food and they were blown away by the heat.

Anyone who orders will have to sign a piece of paper to say they don't hold us responsible for what might happen when they take a bite.

Despite being incredibly spicy, the flavours are actually really nice so I'm hoping some people might actually enjoy it.
I mean that would be good if people liked it wouldn't it? The meal itself will set you back £6.50 and might only be available as a Friday Night Special – it's kinda unclear – which means you might have to spend a bit of time waiting around for it given how busy fish and chips shops are on a Friday. You also have to sign a waiver because it's actually that hot as well. Millers was named the Best Fish And Chips Shop in the country at the 2018 awards though, so it's probably gonna be decent.
It's a bold claim that it's the 'Spiciest In The World' though. I would be kind of be willing to try it if I was ever in the area, but my one criticism would be that it looks remarkable small for a portion of fish and chips? Normally when I head to the chip I want to grab a meal that can keep me going all night and maybe have some leftovers for the morning too – this looks like the kind of thing I might grab on my lunch break from Pret or something. Probably wouldn't be able to eat it all due to the spice admittedly, but it just seems kind of a bit far out compared to your original fish and chips out there.
For more of the same, check out this 100% vegan fish and chips shop in Hackney. Not really your traditional fish and chips shop either hey?