Prepare to set your face to 'AWWW' unless you are dead inside, with this story about the most adorable job appointment in history.
A ginger Bengal cat called Millie has been employed recently by a Southampton warehouse for the toy company Bandai as a security guard. Apparently Bengal cats have similar qualities to dogs (sounds like bullshit), and Millie gets paid in cat food and fish. Paid in food? That sounds like exploitation, she definitely needs to form a union and rise up against these bourgeoisie toy barons. Millie has apparently fit into the role well, and has taken to the job of guarding toys with gusto.
A spokesperson said..
'Millie has always had a very vigilant personality and doesn't mind long hours alone. I'm not surprised she took up a career as a security guard — the toys are lucky to have such an attentive guardian.'
Here's some action photos of the little scamp while working as a watch dog, well watch cat, except that sounds stupid. Anyway, JUST LOOK AT THIS ADORABLE LITTLE FUCKER.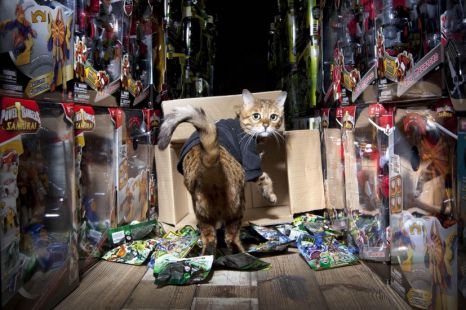 SHE IS GUARDING THE BOXES OF TOYS, HOLY SHIT BALLS AWWW.