Veganuary is in full flow in 2020 with many of your favourite high street retailers offering vegan versions of their favourite dishes, but one fast food restaurant that doesn't seem to have got the memo is Burger King who have today announced that their new plant based Whopper isn't suitable for vegetarians. What?
Featured Image VIA 
Burger King have stated that the new 'Rebel Whopper' is not aimed at vegans, but instead at those people who are looking to reduce their meat consumption. They confirmed that it is served with mayonnaise that has eggs in it and that it was also cooked on the same grill as meat burgers.
Burger King's marketing director Katie Evans said the following about the burger:
The burger patty is plat based but because of how it is cooked, the burger is not suitable for vegans.

The burger is aimed at flexitarians.

We want it to replicate the "flame-grilled taste" as closely as possible.

The vegetarian bean burger is cooked separately though.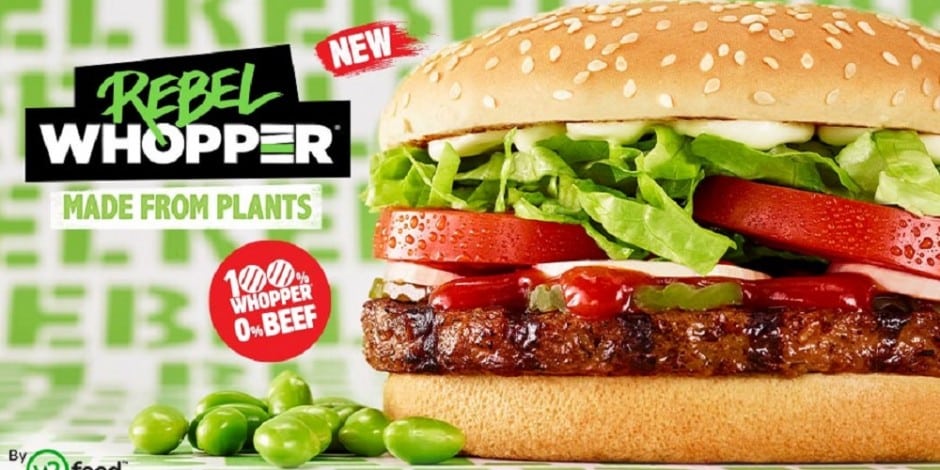 Wow. Not really sure who is going to be triggered about this more – vegans or non vegans. Obviously a whole host of vegans have already laid into the firm for creating a non-vegan vegan burger and I can't really blame them to be honest because it seems kinda dumb to half ass something like this. Favourite quote comes from Donna Wishart who said the following:
When every other fast food company is delivering actual vegan products it's such a shame Burger King can't be bothered to do the same.
Gotta back that really haven't you?
I'm kinda more interested in what the people who get really pissed off about vegan steak bakes even existing are going to say about this though. Are they going to celebrate it for not giving in to vegans? Or deride it for sitting on the fence? Please leave your hatred/praise in the comments.
For more of the same, check out Tesco's plant based vegan steak. Apparently one of the best in the business.