A man named Joel Burger popped the question to his college sweetheart Ashley King the other week in their home town of New Berlin, Illinois. The two had been friends since kindergarten but only got together just before the two of them went to college.  They're now 24 and 23 respectively. Naturally news of this arrangement filtered back to Burger King HQ.
The company set up a Skype call to congratulate the couple, and then dropped the bombshell that they would pay for the entire wedding. Considering that Burger is a grain inspector and King is a grad student, this was probably the best news that they could ever have received for having a dumb surname combination, and probably made all the years of snide jokes they've had to endure more than worth it. Good on you Burger King.
The King had this to say:
Featured Image VIA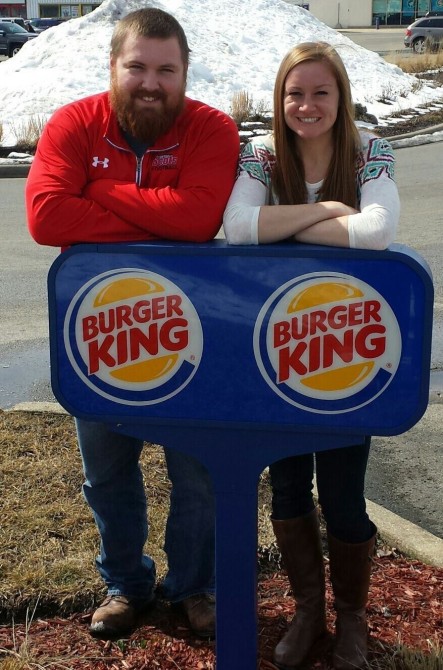 Image VIA
When Burger King Corporation heard about the happy, Burger-King couple, we felt an overwhelming urge to celebrate their upcoming marriage.

All we ask in return is that they live happily ever after.

And maybe name their first child Chicken Fry.

It felt like fate: they found each other and their story found us.
Or  basically they saw a great marketing opportunity but who can blame them really? Either way it's still pretty safe of them and we're sure the Burger Kings are happy about it and that is the main thing here.
Even before Burger King stepped in to pay for the wedding, the couple were planning on having a Burger King themed wedding, having already posed outside a Burger King restaurant to announce their engagement (which you can see above) and planning to serve drinks in personalised Burger King cups bearing the name of each guest. Hopefully we'll be able to get some pictures of this wedding whenever it goes down and they might even receive a special guest appearance from the King himself too. Maybe Ashely can even wear some of the Whopper scented perfume as she walks down the aisle too.
Also, at least they didn't actually married in Burger King, the way this Bristol couple got married in McDonald's.