Bud Light has sparked outrage after handing out free cans of Bud Light to homeless people in Liverpool.
Images VIA 
The publicity stunt saw a Bud Light 4×4 pull up in the city centre and a street crew handed out free cans to passersby. Many cans were handed to rough sleepers, including one who claimed he had a "trolley full".
The stunt, which was not approved by the council, is now facing a huge backlash. City Centre councilor Nick Small said the marketing campaign by Anheuser-Busch, who are behind Bud Light, was irresponsible, aggressive and wrong. He has now called on the council to punish the beer company for the unauthorised stunt: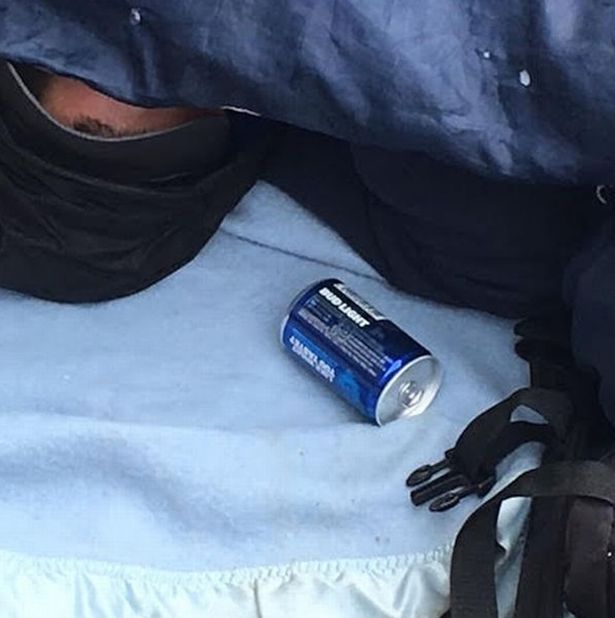 They have done this without permission from the council's Licensing Team or City Centre Team.

I've had reports from members of the public that they've seen street drinkers and other vulnerable residents being handed free cans of beer by Bud Light.

I'm outraged that this is happening when Liverpool schools are on half-term too.

I'd like to thank the City Council's Licensing and City Centre Teams for acting so quickly and getting the van moved.

I'm demanding that enforcement action is taken against the company for what appears to be a flagrant breach of alcohol promotion guideline and licensing laws. This has no place whatsoever in Liverpool or anywhere else.
I think the issue here is whether alcohol should be handed out on the streets for free – not that they were handing it out to homeless people. After all, how do you determine a "vulnerable" resident or a "street drinker". Many homeless people aren't alcoholics, just like many people who have homes are. Bud Light perhaps should've thought about the implications of handing out free booze in a city centre overall.
Still, it's nowhere near as stupid as Pepsi's recent marketing campaign. No company will be able to top that.