It seems Pepsi are trying to reach a more politically active younger demographic with their most recent advert, but instead they've managed to (intentionally?) piss everyone off.
Featured Image VIA
The ad features Kendall Jenner doing a photo shoot on the street while a massive protest happens nearby. No one really seems to know what the protest is about but there's a bunch of random signs featuring phrases like "join the conversation" and "love."
Eventually… Kendall Jenner joins the protest! Yay?
https://www.youtube.com/watch?v=PCEm21aTh5Q
People are especially annoyed over the scene where Jenner hands a police officer a can of Pepsi, which was reminiscent of this award-winning photo of Ieshia Evans during the Louisiana police brutality protests: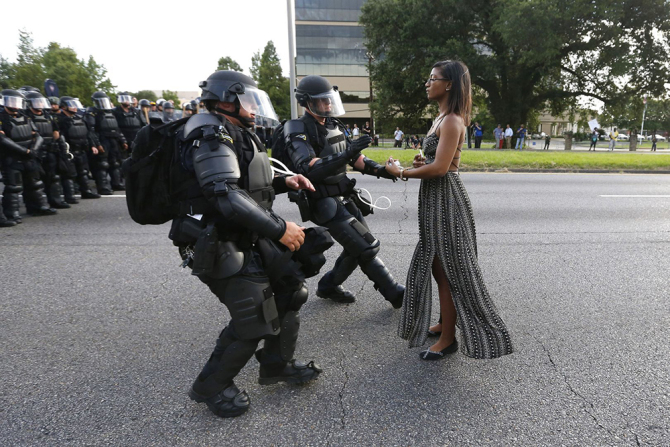 Here's some of the reaction:
I'm sure @pepsi already has an apology drafted. These companies are not THAT tone deaf. They're using controversy to their advantage

— Manic Pixie DreamGRL (@_Hate_Holly_) April 4, 2017
Ivanka: there! Now absolutely NOBODY can produce something more tone-deaf than me today
Kendall: hold my Pepsi

— Fred Smith (@fredwordsmith) April 4, 2017
"It's not a cola." [taps board] "It's the resistance."
…
"Mr. Draper, for the last time, you no longer work here."https://t.co/FIAj4SfpDr

— James Poniewozik (@poniewozik) April 4, 2017
that's it, kendall just fixed all social injustices. bless.

— ¿? (@MissngLnk) April 4, 2017
*kendall jenner hands cop a pepsi*

cop: im not racist anymore

— BRANDON WARDELL (@BRANDONWARDELL) April 4, 2017
https://twitter.com/chrisgayomali/status/849373629469118464
Well this definitely has people taking about Pepsi, so mission accomplished on their part. Tip of the cap to the advertising team who put this rubbish together. After all when is anyone ever really talking about Pepsi? The only time I've ever heard Pepsi mentioned in a conversation is when the waiter tells you there's no Coke and if you'd like Pepsi instead. So I'm sure they're quite pleased that people are tearing their advert apart this week.
For some expert insight into why Coke and Pepsi taste so different, click HERE.