It's been a big couple of weeks for weddings over in India – first we had the story of the couple who got married 40,000 feet up in the air to get around lockdown laws, and now we've got this rather more depressing tale of a bride who dropped dead at her own wedding.
Featured Image VIA
The bride, named locally as Surbhi, died from a heart attack at the ceremony in Etawah city, Uttar Pradesh.
Rather than call it a wrap on the day, the families huddled together and had a quick discussion and decided that the dead fiancée's sister, Nisha, could step in and marry groom Manjesh Kumar instead.
Nisha is circled in the photo below a day before the wedding – don't they all look thrilled?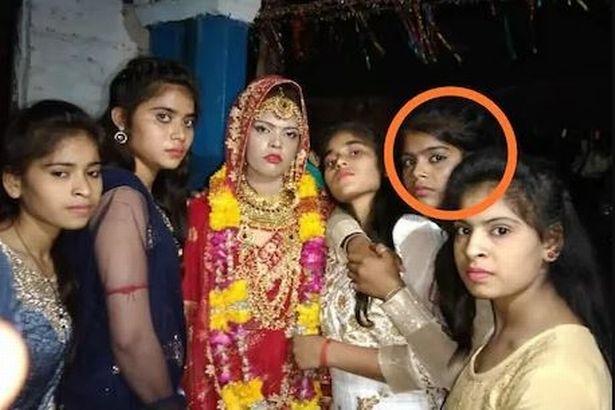 According to the Indo-Asian News Service (IANS), a doctor rushed to the festivities after the bride collapsed following an exchange of garlands during the Hindu wedding ritual. It was later revealed she died of a 'massive cardiac arrest'.
The woman's brother Saurabh said:
We did not know what to do in the situation.

Both the families sat together and someone suggested that my younger sister Nisha should be married to the groom.

The families discussed the matter and both agreed.
Speaking to Mail Online one of Surbhi's uncles, Ajab Singh, said it was a 'tough call' for the family to carry on with the wedding.
One daughter lay dead in one room and the wedding of another daughter was being solemnized in the other room.

We have never witnessed such mixed emotions. The grief over her death and the happiness of the wedding has yet to sink in.
Welp, I guess there's no point letting a wedding go to waste after you've paid all that money for a ceremony (not to mention the dowry that comes with it), but still – bit weird? I mean what is this, 2 Weddings and A Funeral? The bride dies on her big day and they just move her into the next room while the sister steps in and takes her spot.
I guess it doesn't really make a difference in the grand scheme of things as it appears to be an arranged marriage, but still pretty shocking that they could go ahead with it after witnessing the bride die right in front of them. Different cultures I guess. Best of luck to the newlyweds!
For the Air India flight that had to turn around for an emergency landing after a bat got loose inside the cabin, click HERE. Nightmare.