A couple of years ago we had John McCain getting busted for playing poker on his iPhone during a debate over Syria, but Brazilian MP Joao Rodrigues has blown him out of the water by being caught watching porn on his phone during a debate over electoral reform. He even let his colleagues watch the video – which featured a woman in a number of obscene positions – over his shoulder during the debate. A real team player.
At the time the Chamber of Deputies in Brasilia was in full session debating and voting on electoral reform. There was also an invitation to a special mass at the headquarters of the Bishops of Brazil on the table next to him. Probably not the best time to get busted watching porn on your phone.
Unfortunately for Rodrigues that's exactly what happened as the local media managed to get images and a video of him caught red handed. He came up with the shoddy excuse that he received the video through Whatsapp and was just going through and deleting it. Yeah right:
Images VIA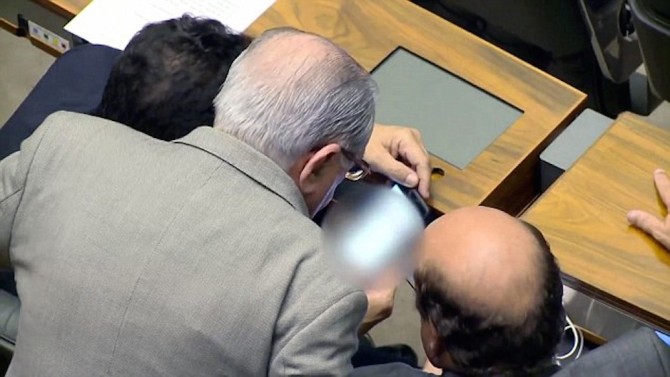 I participate in nearly 100 groups on WhatsApp and during the day I search and separate the wheat from the chaff.

What interests me, I keep or forward and what doesn't interest me, I delete.

It was just what I was doing, erasing the rubbish.
Sure thing Joao. The evidence is pretty contradictory in that he's pictured actually showing the porn to other people. But hey, like so many politicians I suppose that's his story and he's sticking to it.