It looks like Tory frontrunner Boris Johnson is pretty much a shoe-in for next Prime Minister, and he's outlined his plans as PM in a way that Donald Trump might be proud of. 
Featured Image VIA
This includes finally getting Brexit sorted, boosting police numbers on the streets of Britain and keeping Jeremy Corbyn as far away as possible from No10. 
Boris told the Daily Telegraph:
It's time to drive for the line, keeping the ball at the back of the scrum. I'm fighting for every vote and campaigning flat out and will be from now until the end.

I will set out a vision for Britain as the greatest place on Earth. The greatest place to be, the greatest place to live, to raise a family.

The greatest place to send your kids to school, the greatest place to breathe clean air, to start a business, the place where you'll find the most exciting tech scene, the most exciting academic culture, the most cutting-edge businesses of all kinds, but also a place where we improve the environment, we improve quality of life for everybody, because we're uniting the country and bringing it together, that's what I want to do.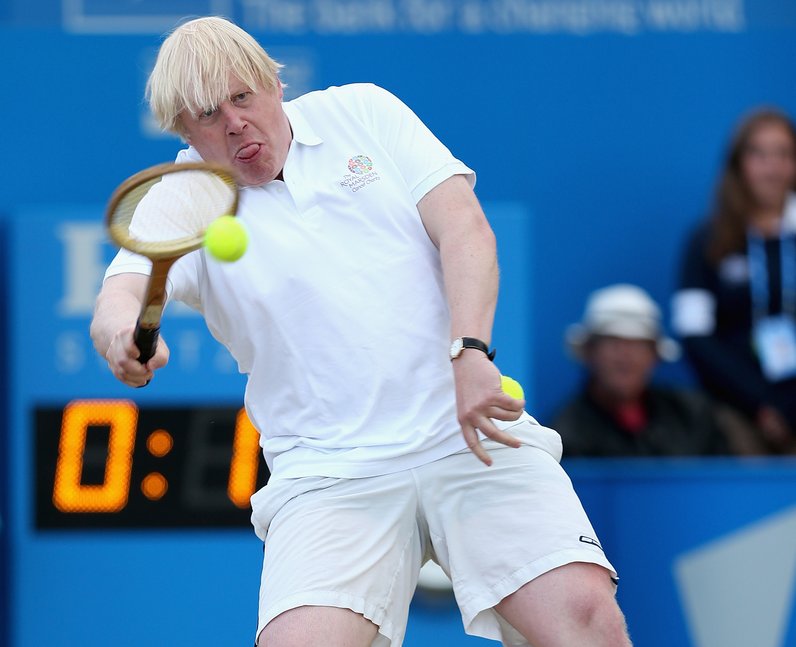 The former Foreign Secretary and London mayor has promised the following:
– Put 20,000 extra police officers on the streets of Britain.
– Harsher penalties for violent criminals and knife-carriers, and ensure they serve full sentences in prison. 
– Deliver Brexit by October 31. 
– Revive the "left behind" areas of the North and Midlands by delivering new rail networks.
– Increase per-pupil funding in primary and secondary schools and boost funding for further education.
– Full fibre broadband all over the UK.
– Cut stamp duty to get housing market moving and free up homes for first-time buyers.
– Prevent 'the horror of a Corbyn government'. 
– Help people on the lowest incomes with a programme of tax cuts and economic reform.
– Generate growth and confidence in the UK.
– Encourage immigrants to learn English so as to better integrate into the UK.
That all sounds well and good, especially the bit about tackling the rise of violent crime in Britain, but he's yet to explain how it will all be achieved especially from a financial standpoint. Come to think of it, that seems to be the one question all politicians prefer to avoid.
The key take most people seem to have from Boris's pledge are the similarities between 'make Britain the greatest place on Earth' and Donald Trump's 'Make American Great Again'. Here's the reaction online:
Trump coined it. Bolsonaro copied it. And now our very own Boris vows to Make Britain Great Again #MABGA 😣 pic.twitter.com/0VmZyexNDe

— Tom Phillips (@tomphillipsin) July 4, 2019
The front-runner to become Britain's next prime minister is a portly white man with unkempt blond hair, an adoring base of supporters, disdain for Europe, a dodgy private life and a loose relationship with truth and principle. Remind you of anyone? https://t.co/hCX24d39vQ

— New York Times Opinion (@nytopinion) June 29, 2019
The quotes from Boris in this article could almost be Trump quotes. No doubt that's self-consciously, but it's also worrying:

Boris Johnson vows to make Britain 'greatest place on Earth' if he wins battle for Number 10 https://t.co/5nJWrpvQQg

— Chris Musther (@chrismusther) July 5, 2019
Oh, I get it! @BorisJohnson is misguided enough to think he can 'do a Trump' and 'make Great Britain great again'. Sorry, mate, that train left many years ago. He'll make things much worse, especially if he goes for a no deal Brexit. Was Great Britain ever great? Discuss.

— Matt Moggridge (@MattyLad) July 5, 2019
Boris Johnson is truly the Donald Trump of Britain. Not an insult, just an obvious comparison. They both are stupid, ignorant, arrogant, obnoxious and corrupt. https://t.co/24EnE4OLaa

— Bruce Bartlett (@BruceBartlett) June 28, 2019
I guess it's just too bad MBGA doesn't really work as an acronym. How about 'MUG' – Make UK Great? Nah, that's not ideal either. I'm sure Boris will think of something. 
For the genius way Boris manipulated Google's algorithm to hide results about £350m NHS bus saga, click HERE. Not as dumb as he appears.