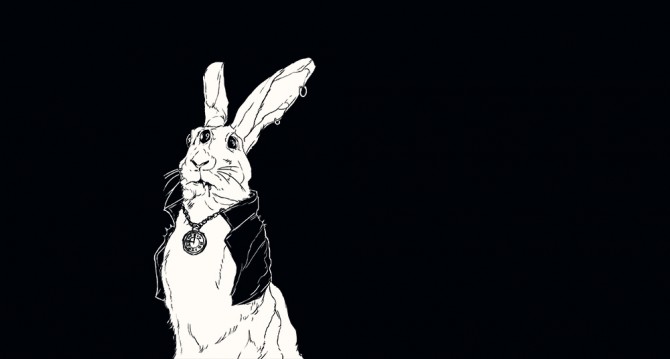 So, you've ingested the new Queens of the Stone Age album quite heavily by now — no doubt in the company of ingesting any number of other mischievous things — and you may well have watched the accompanying videos for a select few songs from too. However, you may not be aware that, all combined together, they form a little nightmare narrative of monsters, reprobates, killers and the killed; several anti-heroes that come together in the very literal end.
☛  The Best Music Video I Have Ever Seen (NSFW)

When you eventually watch it, at the bottom of this and probably end up vomiting – in among being absorbed in the music and having bad trip flashbacks or unexplainable feelings of anticipation for the apocalypse – you may also note just how good the animation looks —with the twisted and messed up illustrations being brought effortlessly to life.
Now, the fact this is my third article of over-excitement in relation to the new Queens album might just be a little bit telling of a certain level of fanboy, but this article is actually inspired by a newfound fanboy fanaticism. In the direction of the artist behind the new aesthetics of QOTSA.
[yframe url='http://www.youtube.com/watch?v=f49yRhJ0NjI']
Introducing Boneface, the artistic talent behind Queens of the Stone Age's new look; the album cover, the vinyl inlay artwork, the drawings and creations that (with the help of Liam Brazier) became the video snippets that make the short film and numerous other things — including a stint as stage ornamentation during the band's Later… with Jools Holland appearance, where he sat still on a chair wearing a mask for the whole set.
☛ Dan LuVisi Contorts Your Childhood Memories Into Nightmares
Now, you might expect this mysterious, in-house artist for Queens of the Stone Age to have been found somewhere out in the desert by Josh Homme and co on a peyote trip. You'd be wrong though as it turns out he's less of a mysterious and elusive anonymous character than he is a shy and retiring 23 year old from Liverpool.
Not only that, but a 23 year old who isn't that far removed from the Sick Chirpse writing team and its readers (that's you), seeing as he cites his staple diet as 'videogames, cartoons, comic books and crappy b-movies'. Add in smokes a shit tonne of weed, drinks excessively or enjoys the finer stimulants or hallucinogens, and he could be any one of us — he could even be you.
☛  More Crazy Artwork: Jim'll Paint It

Which is why I hate him. I'm 23, and never have I received emails that arrange me being taken to L.A. and the desert to hang and jam with the Queens; not even for my poetry, my short stories, my graphically violent comics I drew in youth or my pretending to play the guitar. For anyone who is interested though, please do get in touch, I'm shit company. Aside from that, some his artwork implies the same affinity (obsession) with magpies that I have…
Anyway, here's some examples of Boneface's impressive back-catalogue, prior to being adopted by Josh Homme.
Now I'm fucking off to a field for a few days, during which time I'll be catching QOTSA live — you're jealous, or going too.