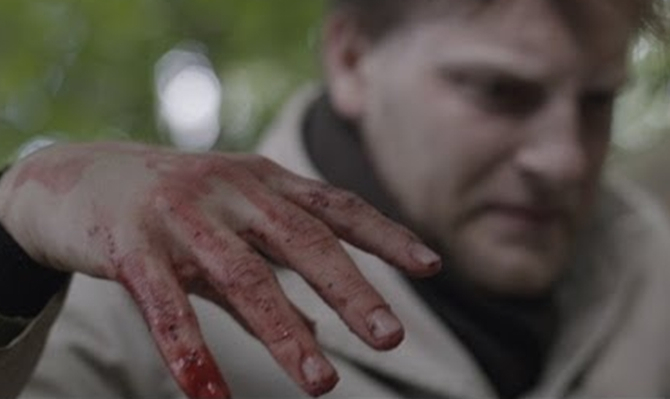 There's a band called Job For A Cowboy, they were born in Arizona and have been making a terrible racket since their first release in 2005. You may not have heard of them, unless you happen to be into death-core, and I'm guessing many of you aren't. It's a sub-genre of metal….. whatever, I know you don't care, who does?
But I watched this video of theirs for a track called "Tarnished Gluttony" the other day and actually, all shit jives away, it's a bloody ace video. It's the darkest, most sinister music vid I've seen for a good long while, and it manages to be dark without any shadowy photography or strobe lit goblins. I won't ruin it by giving you any kind of plot line, because part of its wonder is that you really aren't sure what's going to happen or how far things will go.
It's a 9 minute debacle so I highly recommend you do this whilst under the influence of a Marley-fag. You'll have to bear with the music I'm afraid, but I swear it's worth watching all the way through. I'm not easily gob smacked and my gob was well and truly smacked, I tell no lie.
☛ Watch Next: Kill The Noise — Disturbing Plasticine Violence
It's directed by a smart guy called Michael Panduro from Copenhagen and apparently it's some kind of comment on the futility of religion, I didn't really get that out of it, in fact I didn't really get any sense out of it at all.
Here's a quote from the man himself about this feature: "This was probably the most privileged I've ever been with regards to the band. They simply sent me the album, a budget and said: 'Pick whatever track you'd like, do a video you want to do. We have faith in your decision' and then they let me work without interference……. As a commercial director, I'm a complete failure. The band asked for just one thing and I couldn't deliver. Indeed, this video has no boobs."
Boobs or no boobs, this is a belter, have a look see:
☛ Watch Next: Nekrogoblikon — Terrible Song AWESOME Video
☛ Read Next: Heavy Metal Cruise Ship
[yframe url='http://www.youtube.com/watch?v=48YhY-GOLSE']