Music business publication Billboard cocked up massively earlier when they sent out a Tweet about Kanye West and Kim Kardashian's 2-year-old daughter North West.
Featured Image VIA
They Tweeted out a photo of Kim with her daughter, alongside a pretty ill-thought out caption: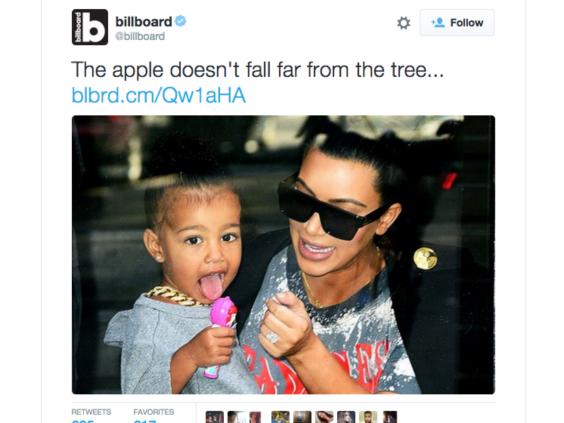 Whoops. The text was meant to refer to a clip of North West shutting down the paparazzi yesterday, but obviously other conclusions were drawn.
Here's the outrage that followed:
.@billboard she's a damn baby. An editor should never position such innuendo on the image of a child, regardless of her famous parent.

— Janet Mock (@janetmock) October 30, 2015
North West is 2 yrs old @billboard. Tell the mountain climber who plays an electric guitar running your social media to stay in their lane.

— Neale Clunie (@AbeFroman) October 30, 2015
.@billboard's tweet about north west is the most disgusting thing. someone needs to get fired.

— emotional shawty (@onIinebore) October 30, 2015
Why not use an actual photo from the story that you're posting about @billboard? Extremely problematic.

— Air-IN with an E (@AirInDanYell) October 30, 2015
Billboard deleted the Tweet and uploaded it alongside another caption:
That's better. At the end of the day though this was an honest mistake, as the Tweet was referring to something else entirely. Just goes to show how people equate Kim Kardashian with giving blowjobs and generally being a super skank that everyone straight away assumed Billboard was cracking a dodgy joke about North West. Brutal.
While we're pretty much on topic – here are 14 ridiculous/awkward .GIFs from celebrity sex tapes.