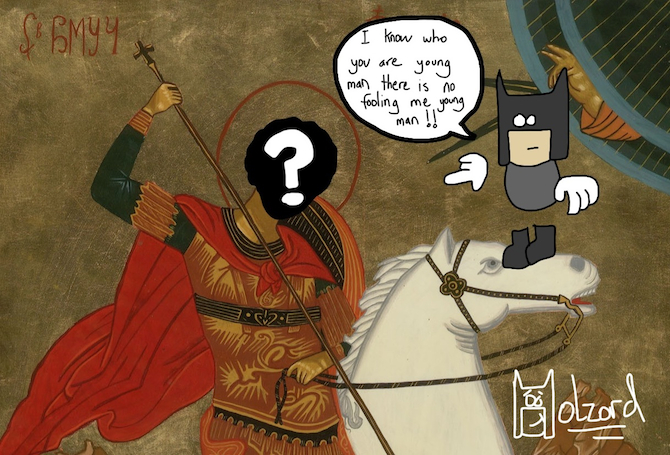 So as you are no doubt aware from your Facebook feeds $500 loan today and various other ting, it is that day they call St Georges Day. All of the mandem have become patriotic, all of the gyaldem are taking their 12 kids to the pub garden to get licked off a Smirnoff Ice, vibes dem in general are good.
HOWEVER. Why do we celebrate this day? Who is St George? Most people don't actually know. So once again, Batman_LDN & Sick Chirpse are here to collaborate on yet another educational lesson for the interwebs massive.
Back in the day, there was this brand new program called E.R. It got bare hype coz it was like Casualty but there were more guns and explosions (there was a spin off movie that got made from this series called '8 Mile', where one of the nurses teaches a rabbit how to spit bars).
Now at this time, the NHS existed but none of the doctors knew how to do anything, they had no one to teach them how to cut legs and shit so all they really did was guess and hope for the best. One of my bredrins went in for a flu jab yeah? They gave him a plane ticket to Hawaii, waited until they were mid-flight, and punched the guy in the left tooth. For real fam.
So, of course, the introduction of this educational documentary called E.R. revolutionised the NHS, it turned it from bloke with a plaster to pokemon master after just 2 episodes. As people in the UK stopped dying, the Queen was chatting to Tiesto on skype asking for ideas on how to celebrate this wonderful occasion. Tiesto was all like, "Well I suppose the key protagonist in this splendidly successful affair would be that rather dashing Clooney chap, no?"
Thus, 312 years ago today, it was decided that George Clooney is a saint — and we've celebrated his impact upon the UK massive rewind selecktah once a year ever since. Safe George.
☛ More Batman_LDN:
Batman_LDN Discusses The Oscars 
Batman_LDN Discusses Kim Jong-un With His Rivals 
How To Do An Olympic Chirpse With Batman_LDN