Last week saw the unveiling of a Wall Street statue in honour of International Women's Day. The sculpture of a 'fearless girl' was supposed to represent female empowerment.
Images VIA
However, one man and his hip action have managed to shit all over this idea after a picture of him humping the statue has gone viral.
Alexis Kaloyanides, an architectural designer, posted the picture to Facebook, and it has since been shared more than 14,000 times. The caption read:
Almost as if out of central casting, some Wall Street finance broseph appeared and started humping the statue while his gross date rape-y friends laughed and cheered him on. He pretended to have sex with the image of a little girl. Douchebags like this are why we need feminism.

In an interview, Kaloyanides said:
These three young men came along and at first they were hanging off the bull.

Then this one guy rushed up and started grinding against the statue of the girl, being lewd and totally inappropriate.

There were people there talking about empowering children and women and for then to have this 20-something showing his entitlement, defiling the statute… it was utterly revolting.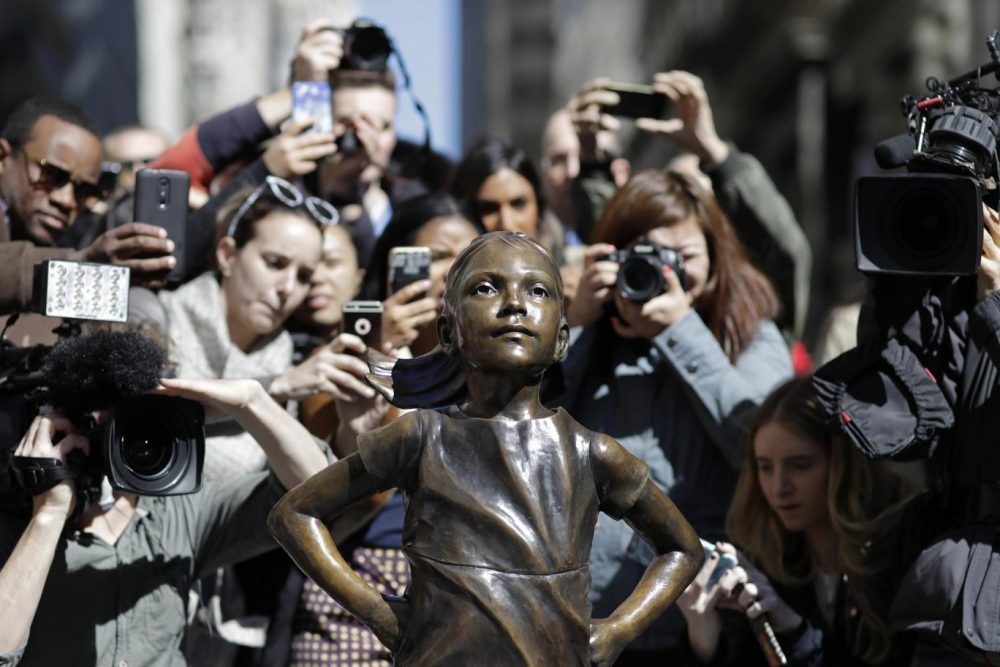 Understandably, many people have reacted to the image with utter disdain, with one person saying:
The complete lack of originality in this 'joke' is indicative of how there is a whole culture of rape and not just a handful creepy guys as some people like to claim.
Damn straight. Unfortunately, with Trump as President, it seems like the world is going backwards with regards to feminism – the worst is yet to come. And pseudo-feminists such as Emily Ratajkowski and Kim Kardashian are really not helping the matter.