There's a very touchy debate raging on Twitter at the moment over the phrase 'trans women are women', with those who support the phrase claiming there is no difference between being trans and biologically female and the opposite side insisting it's important to keep the distinction so as not to invalidate experiences unique to biological women, for medical reasons and otherwise.
Featured Image VIA
JK Rowling is on the latter side of the debate and caused unbelievable outrage the other week when she Tweeted that biological sex is real, and what shocked a lot of people is that Harry Potter star Daniel Radcliffe popped up and basically threw her under the bus with his own views on the subject: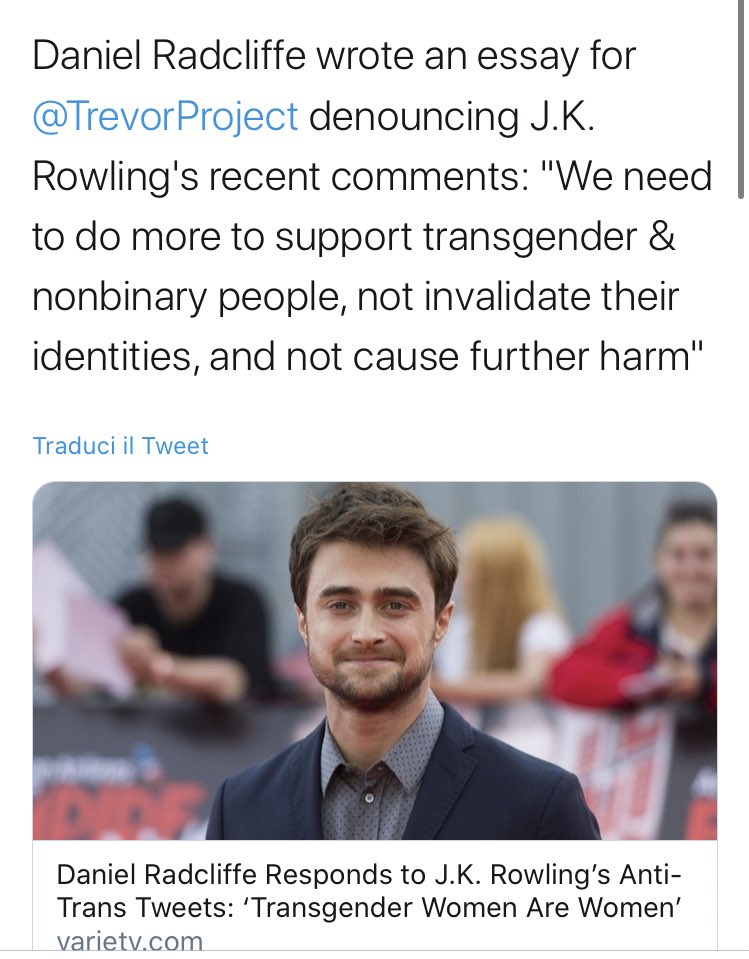 Obviously Daniel Radcliffe is entitled to his opinion, but many women on Twitter suggested he hadn't actually done any research or thought this through and was only speaking up to distance himself from any backlash (since his career is so associated with JK Rowling & Harry Potter).
That got #askdanielradcliffe trending, where he's being asked to elaborate on the matter but mainly is just having the mickey taken out of him:
Daniel, do you have even one word to say about the avalanche of vile abuse and rape/death threats suffered by the woman responsible for your 'career' existing in the first place, simply because she dared to talk about her experience as a woman? #AskDanielRadcliffe

— Athers #IStandWithJKRowling 🏳️‍🌈🏁🇫🇷🇧🇪 (@Athers1977) June 14, 2020
Hi Daniel Thank you so much for explaining so carefully that transwomen are women, but now my ladybrain's a little bit confused as to what a woman actually is. Could you please define the word woman without a circular definition or sexist stereotypes? Thanks #AskDanielRadcliffe

— Jeannie Molloy (@JeannieMolloy) June 15, 2020
What's your opinion on talentless pricks who owe everything to a brilliant woman stabbing her in the back and then white mansplaining womanhood to 51pc of the world's population? #AskDanielRadcliffe

— Womankind 🏁🏁 (@Womankind15) June 15, 2020
My abuser was called 'Dad' and passive-aggressively changed the wifi password to things like '10inchdick' when I was a kid…

…but also wore mascara.

Can you guess their gender?#AskDanielRadcliffe

— ⚢Woman4Women – Tiffany Richardson⚢ (@Woman4W) June 15, 2020
#AskDanielRadcliffe Daniel why does my husband refuse to get up at night to Breastfeed our twins? Why is it always my turn? I cannot think of one good reason.

— Goody Spy (@Spyonmike) June 15, 2020
When my husband and I wanted our second baby, my husband refused to carry it. I had 4 miscarriages and kept trying, but my husband *still* wouldn't try.

Why do you think he wouldn't, Dan?#AskDanielRadcliffe

— Man FRIDAY #AdultHumanFemale (@ManFRIDAY_) June 15, 2020
#AskDanielRadcliffe Daniel, now that gendered language is forbidden, can I ask you if you prefer to be called an ejaculator, a spaffer, a prostate haver or penis person? Perhaps bepenised person? Please advise

— Dick McMandyGirl (@MisterLemLem) June 15, 2020
#AskDanielRadcliffe what should the penis-free sex class that potentially menstruates and gives birth call itself now that you've educated us into realising that 'woman' is just a feeling??

— Lily Maynard (@LilyLilyMaynard) June 15, 2020
#AskDanielRadcliffe 99% of sex trafficking victims are female.
As you have declared yourself an authority on what women are, how is it that traffickers know who to kidnap?
And why do you believe that their victims should be stripped of their right to female-only spaces?

— therestofus (@therestofus5) June 15, 2020
I was abused by my father because of my sex and sold by men, again because of my sex – specifically because of my genitals. Can I identify out of this? #AskDanielRadcliffe

— Aoibheann Níc Sheóinín (@mamofmanymany) June 15, 2020
My daughter is almost a teenager, so I'm giving a lot of thought to birth control. Knowing that the pill is extremely harmful, and that many ejaculators don't like condoms, should I simply tell her to identify as male? Will this prevent unwanted pregnancies?#AskDanielRadcliffe

— Ellie (@Ellen_Mingott) June 15, 2020
Hi Daniel, When menstruators get old, should they have their prostates checked? #AskDanielRadcliffe

— Dinah Brand 🇨🇦 (@dinahbrand2) June 14, 2020
What is a woman? #AskDanielRadcliffe

— Lisa 🙏🌧🌍 (@godblesstoto) June 15, 2020
Was anyone really that surprised that Daniel Radcliffe doesn't know what a man is?

— Konstantin Kisin (@KonstantinKisin) June 11, 2020
The anti-JK Rowling section of Twitter is slamming every woman getting involved with the #askdanielradcliffe hashtag as a transphobe or TERF (trans exclusionary radical feminist), but I don't know, they do raise some good points. In fact that seems to be the whole point to me – is that you can support trans lives and rights without having to pretend there's no difference between a woman and trans woman.
Worth nothing there are plenty (a majority?) of trans women in agreement with JK Rowling that sex is real and don't see it as a negative that there is a distinction between trans and biological women. Perhaps that's the problem here – that many misconstrue acknowledgment of the distinction as a diss to trans people, which it definitely isn't and shouldn't be. Either way, would've been cool of Radcliffe to also condemn some of the shocking abuse and messages being sent Rowling's way. Where would he even be without her?
For the time JK Rowling annihilated a Harry Potter fan who asked why Dumbledore is gay, click HERE.