There's been a lot of drama this past week over comments JK Rowling made on Twitter about transgender people, kicking off a massive backlash and pile-on against her.
Featured Image VIA
Which was surprising, because all she did was state that biological sex is real and that acknowledging and supporting the existence of trans people doesn't mean we should forget this:
If sex isn't real, there's no same-sex attraction. If sex isn't real, the lived reality of women globally is erased. I know and love trans people, but erasing the concept of sex removes the ability of many to meaningfully discuss their lives. It isn't hate to speak the truth.

— J.K. Rowling (@jk_rowling) June 6, 2020
The idea that women like me, who've been empathetic to trans people for decades, feeling kinship because they're vulnerable in the same way as women – ie, to male violence – 'hate' trans people because they think sex is real and has lived consequences – is a nonsense.

— J.K. Rowling (@jk_rowling) June 6, 2020
I respect every trans person's right to live any way that feels authentic and comfortable to them. I'd march with you if you were discriminated against on the basis of being trans. At the same time, my life has been shaped by being female. I do not believe it's hateful to say so.

— J.K. Rowling (@jk_rowling) June 6, 2020
Pretty sensible stuff, but the amount of hate directed JK Rowling's way since she made those Tweets has been astonishing. People are putting words in her mouth, accusing her of contributing to trans suicide rates, being a TERF (trans exlusionary radical feminist) and so on.
JK then put out this essay in which she describes her experiences as an abuse survivor and how this ties in with her identity as a woman and her concerns about the extreme end of trans activism:
TERF warshttps://t.co/mc58tGXOjs

— J.K. Rowling (@jk_rowling) June 10, 2020
Somehow, this essay only fueled the flames. The abuse has gotten so bad that it's quickly created an environment where The Sun feels it can publish headlines like this because they know it's open season on JK Rowling right now and that many will agree with the sentiment: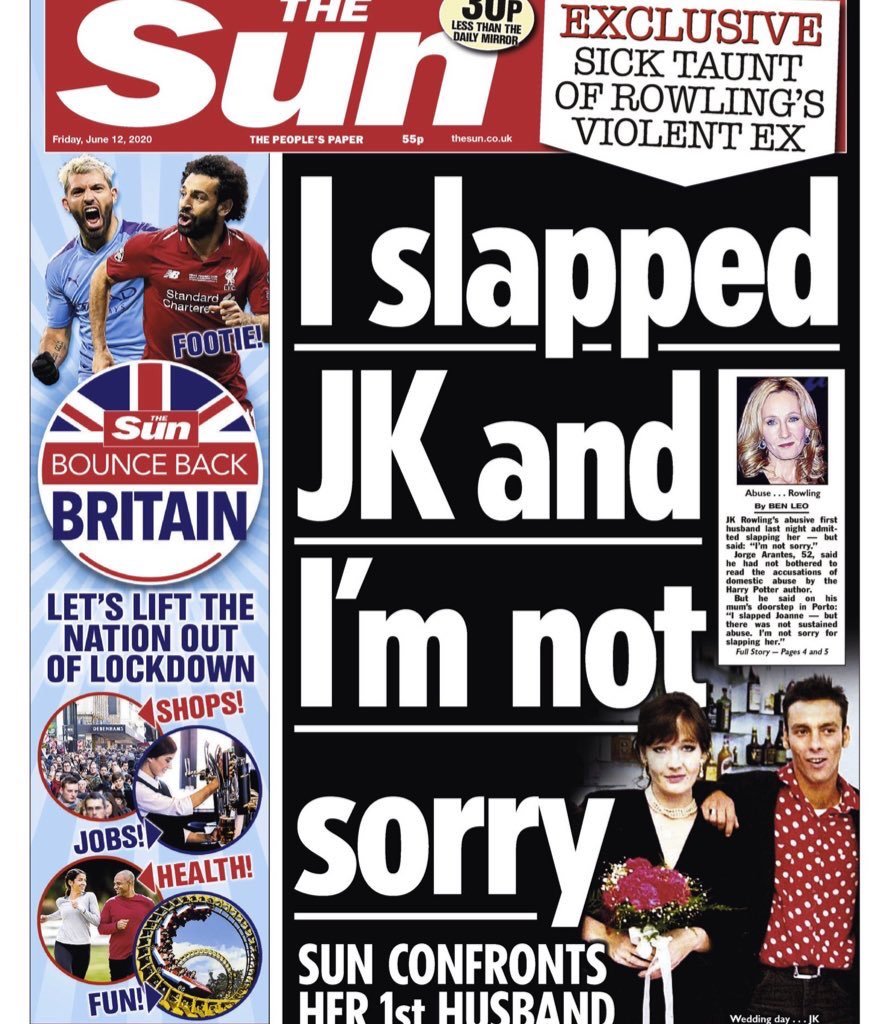 Now I know this is what The Sun does and controversial and provocative headlines are their bread & butter, but granting her abuser the front page while also making a mockery of her experience as a victim after all the drama of the past week is a bit too far, even by their standards.
There are enough people sickened by this headline that it's got #dontbuythesun trending again:
Glorifying domestic violence. Paying an abuser for a story. This has to be utterly condemned & action taken. If you're buying this shit rag, you're condoning it. I feel SICK #dontbuythesun pic.twitter.com/xu5nEVMs6x

— Da Doo Ron (Ron) 🎶 (@Dadooron31) June 12, 2020
I hope everyone that sent abusive tweets and publicly denounced JK Rowling feels ashamed. You've created this wave of hate and they've taken your lead. You've made her publicly relive her trauma along with her daughter. All because she stood up for women and girls.#dontbuythesun

— YokoNoNo (@YokoMcNoNo) June 12, 2020
As a journalist who has worked for several national newspapers, I've seen many lows in our trade in recent years. But nothing like today's sewer. #dontbuythesun.

— Dorothy Lepkowska (@DotLepkowska) June 12, 2020
I'm raging right now. All of those commenting on JKR while ignoring the truly horrific misogynist attacks she's been on the receiving end of, are complicit in fomenting the environment where papers like The Sun get end up platforming a woman's abuser & with a headline like this. pic.twitter.com/SKAxws6SD1

— Leya (@Indy_Leya) June 11, 2020
The Sun's front page – giving a platform to an unrepentant abuser – is appalling even by its standards. Those responsible are editor Victoria Newton, her boss Rebekah Brooks and her boss Rupert Murdoch. They are beneath contempt. Please #dontbuythesun And don't click either.

— Brian Cathcart (@BrianCathcart) June 11, 2020
Everyone who claimed @jk_rowling was "weaponising her abuse" or "engaging in tired tropes" etc. Should take a long hard look at the Sun's front page & accept that their dismissal of women's #sexbasedrights has fuelled a tsunami of #misogyny which has to stop

— Joanna Cherry QC (@joannaccherry) June 12, 2020
Whether you feel that JK Rowling has fucked up on trans issues or not, hopefully most will agree that putting a headline like this out there in the midst of it is bang out of order. The world doesn't want or need to hear the words of JK Rowling's abuser and especially when he's shown such a blatant lack of remorse.
The saddest part is that Harry Potter stars like Daniel Radcliffe and Emma Watson went to the effort of condemning JK Rowling for her Tweets about trans people, but haven't had the same energy when calling out the hate and abuse targeting her. Would be decent to see them correct that soon.
For the time JK Rowling annihilated a Harry Potter fan who asked why Dumbledore is gay, click HERE.