Arnold Schwarzenegger has terminated an internet troll who called him a 'snowflake' on Facebook with possibly the politest demolition job I've ever seen online.
Featured Image VIA
Arnie had said something critical of Donald Trump, when the troll jumped in and called him a snowflake. Instead of blanking the guy completely, Arnie offered up this A+ response: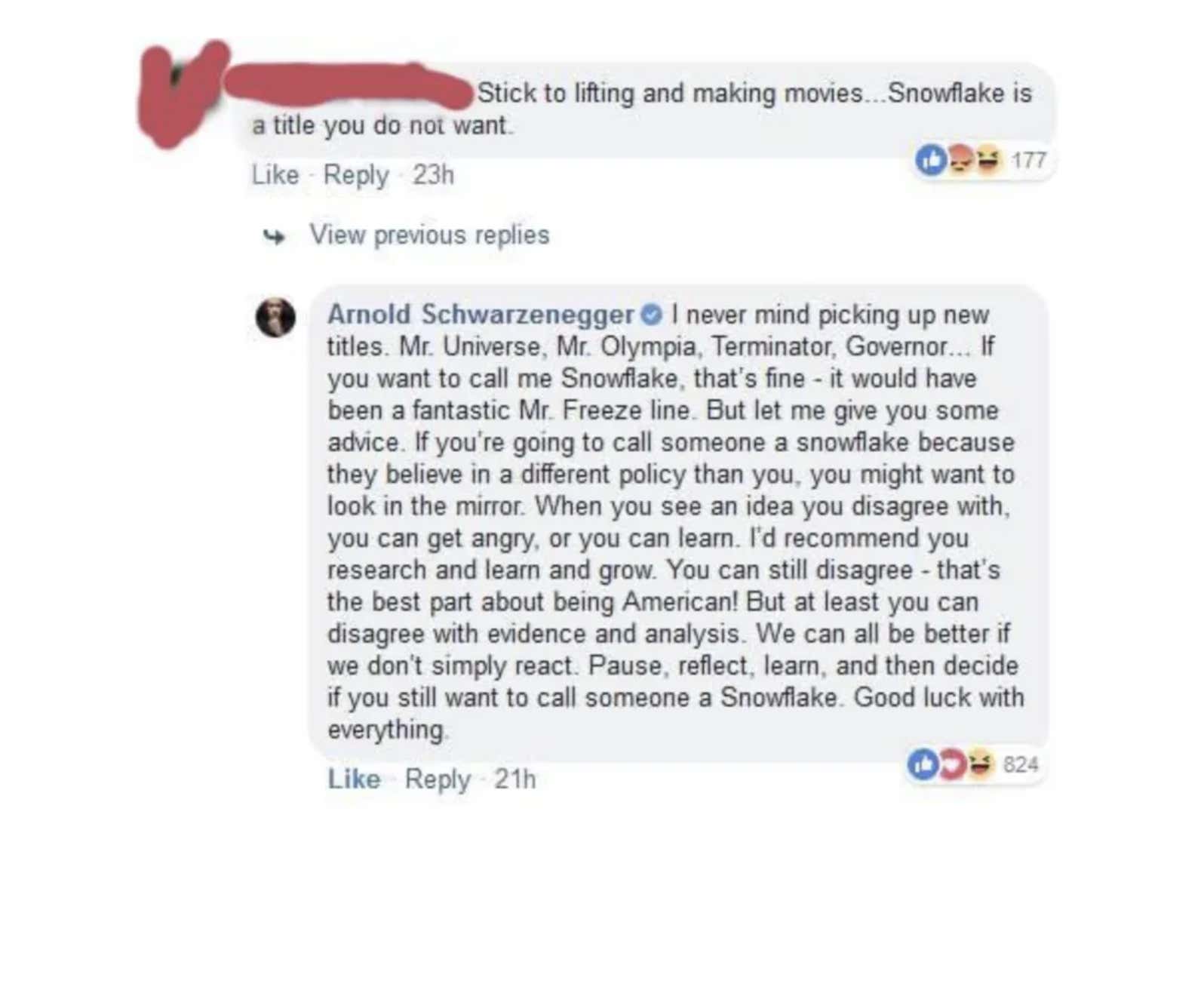 Beautiful. Just beautiful. Never mind how hilarious it is that this anonymous Facebook troll is calling The Terminator a snowflake, it's just an overall on-brand response from Arnie and another example why people all around the world love him so much. No need to put that troll over his knee and spank him like a little child (figuratively speaking), he put him in his place using common sense and decency and left him with zero chance of a comeback response.
As Arnold said:
When you see an idea you disagree with, you can get angry, or you can learn. I'd recommend you research and learn and grow. You can still disagree – that's the best part about being American! But at least you can disagree with evidence and analysis. We can all be better if we don't simply react. Pause, reflect, learn, and then decide if you still want to call someone a Snowflake.
That's a pretty important message in the current climate of 'cancel culture' and calling people snowflakes, Nazis, libtards or fascists just because they disagree with you on something. All those terms get thrown around way too easily these days by people out to hurt and destroy each other over a difference of opinion. Like Arnie implies – what the hell happened to being civil, hearing each other out, and agreeing to disagree?
P.S. Excellent Mr. Freeze reference by the big man too. Go Arnie Go!
Speaking of Arnold Schwarzenegger, a screening of his movie Kindergarten Cop was cancelled earlier this week after someone complained that it 'glorifies' police. Sigh…