Conor McGregor V Floyd Mayweather competing a boxing match back in 2017 was somehow the second most bought PPV combat sports event of all time – even though McGregor never really had a chance in hell of winning – so apparently the two of them are now close to signing a rematch.
Featured Image VIA
Here's what 'a source' has said about the likelihood of this bout taking place: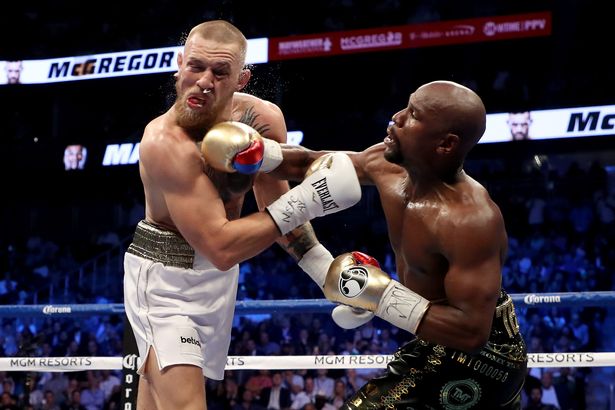 Connor will only take the fight providing Floyd is willing to put his professional record on the line – so the fight will not be an exhibition, it will be an official fight," The Sun's source added.

It will be at 155lb. That's what we know so far.

It will be the last time Floyd ever steps in the ring, so it is not one to miss.

The deal is very close to being done. Personal terms have been agreed on both parties.

It will be one final show down. And, yes, records will be at stake.

Floyd sees it as the end of the Mayweather era and the beginning of the Gervonta Davis era.

He believes it will be the biggest night boxing will have ever seen and has been saying 'People best be ready because it's going to be something spectacular'.

There are arguments about the rounds at the moment with Connor's team wanting ten rounds, but the deal and rights are certainly getting there.
That does sound very detailed for something that someone is making up, but I suppose the problem with quoting all these unnamed 'sources' is that nobody ever believes them because we don't know who they are? Could see this potentially happening though because both men love money and don't really have anything to lose by going for it – especially McGregor who has only won one fight in the last seven years or something.
Anyway, I'm not sure if anyone actually wants to see that again after how underwhelming the first fight was, but I reckon we would probably all end getting caught up in the hype and watching it. Those two are masters at selling a fight and even though they're both nowhere near their prime they've still got that X factor. The fact that they're both sorta washed up now probably makes it a more interesting fight too. Count me in sadly and check out this stakes sign up offer for the fight too. Can't beat it.
For more of the same, check out Conor McGregor's $2.2 million watch with a secret sex compartment. What's that all about?