GB News has been hailed as a haven from the woke nation, but its first two weeks of broadcasting have been riddled with technical blunders, awkward moments and people calling in with fake names so it hasn't really delivered on any of its promises at the moment.
Featured Image VIA
If you give it a few more weeks though then they might manage to turn it around, but one man who isn't going to be sticking around – at least for the short term – is channel founder Andrew Neil. Speaking on his show yesterday night, he announced that he was taking a few weeks off: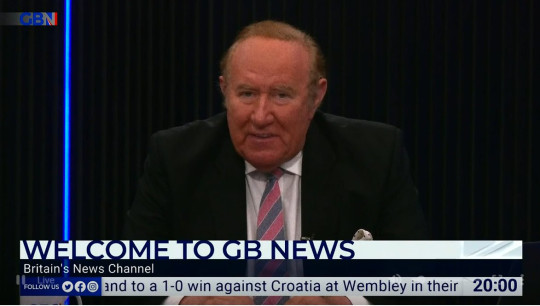 That's it for tonight and from me for the next few weeks.

But I leave you in the safe and professional hands of Colin Brazier.

I'll be back before the summer is out and when you least expect it, so stay tuned.

Before I take this break, let me say this: yes, we had a bit of a rocky start with the launch of GB News.

We're a start-up, they're always a bit rocky these start-ups. But we are up and running as you can see, we get better every day and there's clearly an appetite for what we're doing.

And in two short weeks, we've already built a loyal audience which has beaten all of our expectations, it's often bigger than the other news channels and it's growing.

On behalf of GB News, I say to all of our viewers, thank you.

We won't let you down and you ain't seen nothing yet.
That's a bit weird isn't it? If I was the main guy on a new TV channel that was having a bit of trouble, I wouldn't immediately take an undefined leave of absence for no apparent reason. Seems like a really bizarre move but I guess he has his reasons. Will GB News be able to improve without him and deliver on their manifesto? Have to wait and see I guess.
For more of the same, check out this woman defending paedophilia on GB News. That's not such a good look either.