Like I said the other day, it wasn't long before the next shots were fired in the Amber Heard/Johnny Depp clusterfuck of a divorce because today Amber has shared some more pictures of her alleged domestic abuse at the hands of Depp. Obviously she sold them to People magazine and didn't just put them on the internet, because she's probably going to be a little hard up for cash when she's received half of Depp's $470million fortune.
Featured Image VIA 
The pictures Amber released appear to be different to the ones she was sporting last Friday when she appeared in court asking for a restraining order after he allegedly smacked her in the face with an iPhone. She's claiming that she's suffered domestic abuse for years and these pictures are from several incidents over the course of the marriage between the two, including one 'serious incident where she feared for her life as Depp suffocated her with a pillow'.
Take a look: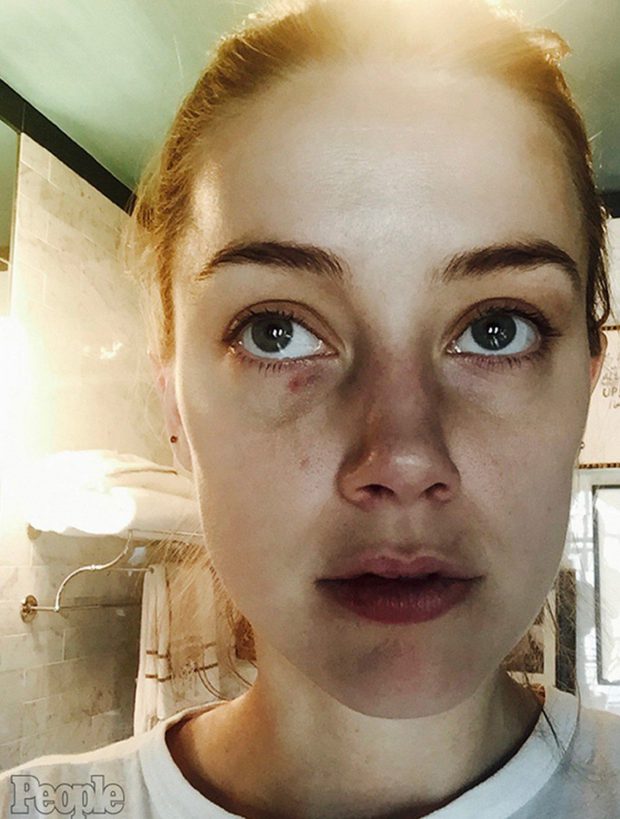 Yeah that definitely doesn't look so good for Heard and something was definitely going on (or she has a really good make up artist) but the whole situation is so weird with both sides of the argument and their friends wading in (some of Depp's have even gone public saying that she's blackmailing him for $235million), I'm not really sure we can be sure of anything at this point. I mean Depp's defence lawyer has steadfastly accused Heard of 'attempting to secure a premature financial resolution by alleging abuse' which isn't really something you can say flippantly and hints that there's going to be a huge conflict/legal battle between the pair for some years to come.
All I can say is that I don't know if Amber Heard was abused by Johnny Depp or not (and I hope she wasn't and didn't have to go through that), but whatever happened it does seem like kind of a crass move to sell pictures of it to a celebrity gossip magazine. Yeah, it might turn public opinion against Depp but it's not going to make you look too good either. You should just wait until you show up in court and drop that truth bomb – it would have been way more effective.
This is by no means over and there are going to be a hell of a lot more fireworks before it's over though, so tune in tomorrow probably for the next instalment. Maybe it's because of all this stuff that Johnny Depp was rumoured to be moving to Manchester a couple of years ago.