There's a running joke in this country that it's completely ridiculous how early Christmas decorations etc start getting put up and going on sale, but I think Aldi is really taking things to the extreme with their current Junemas promotion.
Images VIA
The supermarket chain are bringing out a whole range of Christmas menu items for the sixth month of the year to celebrate 'Junemas' because the majority of the country wasn't allowed to spend the festive period with their families. The idea is that now mingling is allowed indoors – at least for the moment – you can have your belated Christmas meal with your family this June instead and Aldi will be there to help you with their selection of turkey burgers and BBQ pigs in blankets.
Here's what Aldi managing director of buying Julie Ashfield had to say about it all: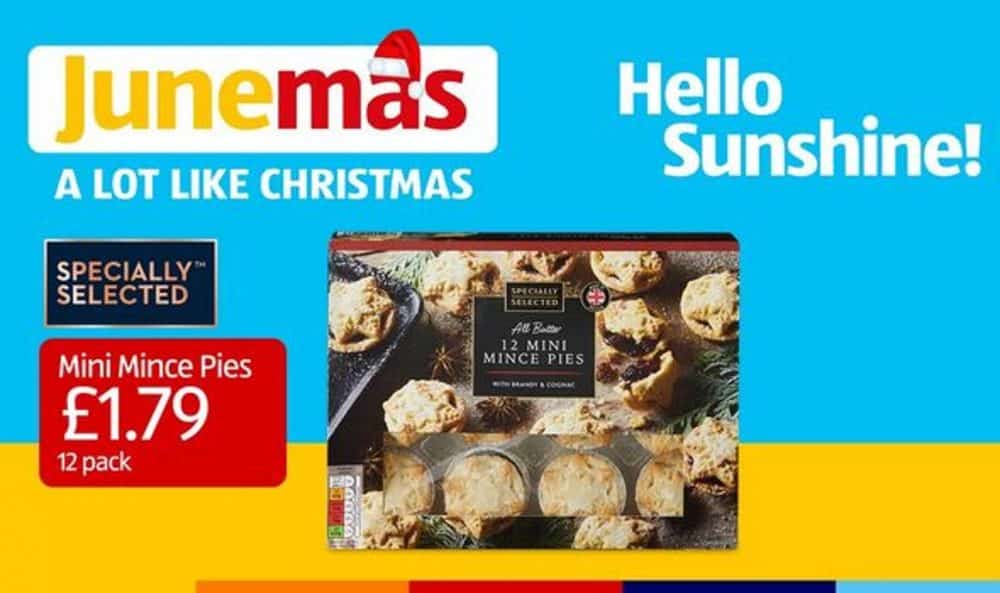 As we gear up to celebrate Junemas, we want to make sure our customers have everything they need to make this day truly special.
So we are delighted to have put the decision into our customers' hands, asking them to cast their vote on their Aldi festive favourites, which they can enjoy alongside some new exciting treats when they reunite with friends and family next month.
Does sound pretty good I suppose? The loaded pigs in blankets will set you back £2.99 and giant pigs in blankets kebabs will set you back £2.50. You can also buy a massive frankfurter wrapped in bacon and mustard for £2.50 to zone in on those German market vibes. I guess I'm in.
Bad news is that all these products aren't hitting Aldi until June 21st and they're all a part of the SpecialBuys section, so once they're gone, they're gone. Better set my alarm.
For more of the same, check out this Russian supermarket that's a third cheaper than Aldi and opening soon. Wow.