Aldi and Lidl may have revolutionised the supermarket game over here in the UK, but it looks as though things are about to get even cheaper with the arrival of a brand new budget supermarket chain.
Featured Image VIA
Russian retailer Mere is set to open in the UK, and they claim to be 30% cheaper than other discount grocers like Lidl and Aldi.
Owned by Svetofor in Sibera, Mere has a 'no service, no marketing' policy that allows them to pass savings on to the shopper. There are four stores due to open across England, the first of which is in Preston and could be open as early as June 2021.
Other branches planned this far are in Mold in North Wales, Caldicot in South Wales, and Castleford in West Yorkshire.
Mere supermarkets contain warehouse-style aisles, with 1,200 items and just eight members of staff per Mere shop, which I guess is good news for shoplifters.
You've got all the usual fresh and frozen products you'd buy, but suppliers must deliver directly to the 10,000 sq ft. locations themselves (meaning Mere doesn't require excess storage space).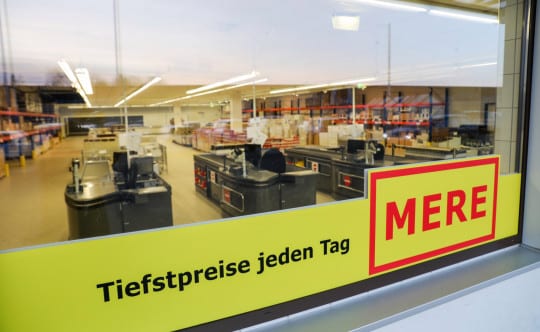 Mere already operates in several countries around Europe, and the company is eyeing locations in Scotland, Devon, Cardiff, Banbury, Selby, Bradford, Grantham, Sheffield, Southampton, Stockport, Kettering, and Neath.
Pavels Antonovs, Head of Buying at Mere UK, told The Grocer:
We are the gap in the market. We don't have any competitors.

Our model is no service and no marketing. Some will understand us, some won't. There are already around 30 businesses that will 70% fill our shops.

I have just now met with a manufacturer with a turnover of £150million and we signed for eight SKUs.

On March 13, we opened a store in Latvia and the queue outside was 570 people.

In Germany, when we opened our first store, it had been bought out [of stock] in two days.
Well this can only be good news, can't it? I was a bit wary at first seeing this brand is 30% cheaper than Aldi – doesn't bode well for the quality of the food when it's so unbelievably cheap – but it looks as though they're driving prices down by minimising staff and marketing which I think was the old Aldi/Lidl model that worked so well in the first place. Weird how British supermarket brands never figured that one out?
Anyway, always good to give customers more options and given the huge success of Lidl and Aldi there's no doubt Mere will be a smash too. Will probably see them popping up in London and the bigger cities too in no time.
To watch a Walgreens security guard have a hell of a time trying to to detain a shoplifter, click HERE. Might wanna find a new line of work after that.