Normally we're writing on these pages about Aldi and Lidl to talk about how excellent and cheap their products are but it seems like they really dropped the ball this time as they're having to recall some of their products because of the presence of salmonella.
Featured Image VIA 
Not really sure how you accidentally get salmonella in a whole bunch of houmous – and we mean a whole bunch – but it's happened and it seems like it's a bit of an emergency as Food Safety Authority of Ireland recalling lots of different types of it and getting stores to put up signs telling people to bring it back if they've purchased it recently. The items are sold under the name 'The Deli' in Aldi and 'Meadow Fresh' in Lidl and here are the ones that have been affected: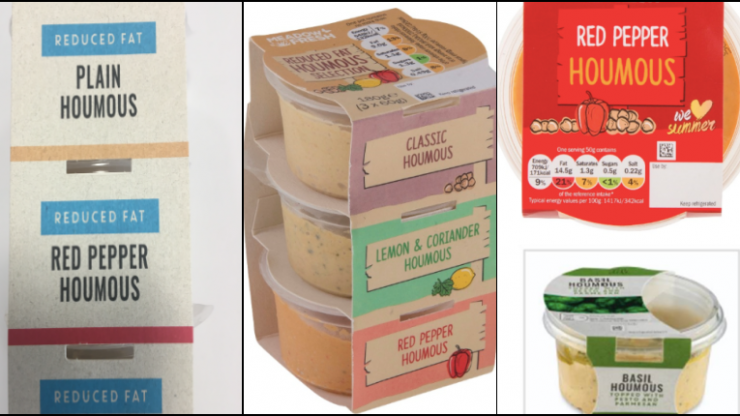 Aldi:

The Deli brand Reduced Fat Classic Houmous Triple Pack; pack size: 180g (3 x 60g); UBD 03/11/19

The Deli brand Reduced Fat Houmous Selection Triple Pack; pack size: 180g (3 x 60g); UBD 02/11/19 and 03/11/19

The Deli brand Basil Houmous topped with Pesto & Parmesan; pack size 170g; UBD 04/11/19

Lidl:

Meadow Fresh brand Red Pepper Houmous; pack size 170g; UBD 06/11/19

Meadow Fresh brand Classic Houmous stacker; pack size 180g (3 x 60g); UBD 06/11/19
I'm not sure if any of these have made their way into the UK as it seems like the outbreak might be limited to Ireland. Either way, if you've picked up any of that houmous from either of those two places you might wanna think twice before eating it, just saying.
In case you're unaware, salmonella poisoning will most likely give you bloody diarrhea along with a fever and a headache, but in extreme cases you could be admitted to hospital or even face death. You don't want it basically, so maybe steer clear of this houmous for the next couple of weeks. Hopefully Aldi/Lidl can sort themselves out as well because that really is pretty ridiculous behaviour from them as well.
For more of the same, check out this two metre long pig in blanket that Aldi are selling this Christmas. That's more like it.