Another day, another case of someone posting something untoward on social media and losing their high profile job because of it – when are people going to learn that you just can't go around doing shit like that?
Featured Image VIA 
Alastair Stewart has been a newsreader on ITV news for the last 40 years, but revealed yesterday that he was standing down from his job at the age of 67. ITV confirmed that this was due to Alastair's serious errors of judgment in his use of social media that had breached their editorial guidelines.
Shockingly, Stewart's entire Twitter account had been deleted so obviously rumours started to swirl about just what he might have said that was so controversial. Well, someone had obviously screenshotted the tweet and it turns out that he was using a Shakespeare quote to compare a black man to an ape: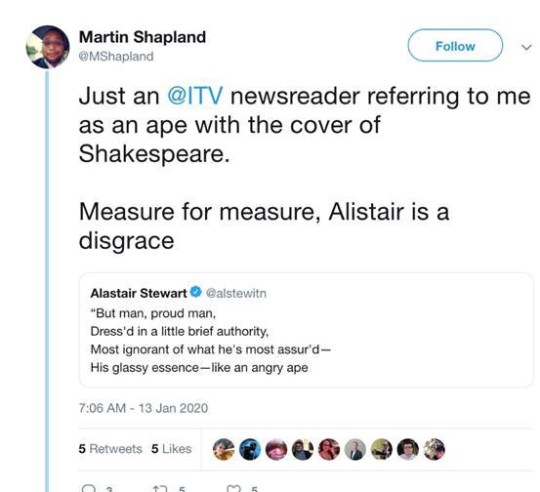 Whoops. I mean even if Stewart was just trying to insult him and call him angry/ignorant via that Shakespeare quote – it's from 'Measure For Measure' don't you know – then he surely has to have the wherewithal to know that you can't go anywhere near comparing a black man to an ape in 2020 (not that it should have happened at any point in history, but even more so now) because people are going to think that you're an absolute scumbag because of it.
Alternatively, he knew exactly what he was doing and is actually a racist piece of shit as well. Either way, he definitely deserves to lose his job for pretty much being an ignorant ape himself. Zing.
For more of the same, check out this woman losing her job for tweeting about Kobe Bryant's death. Dumbass.