It's only a matter of hours before the Breaking Bad movie hits Netflix on Friday and we'll finally find out what happened to Jesse Pinkman after the final episode hit our screens four years ago.
Featured Image VIA 
Not much is known about the film itself and its plot direction, but Aaron Paul himself decided to sit down and answer some questions about it at the Los Angeles premiere last night. Here's how the Q & A session went:
CAN YOU SET UP THE STORY OF EL CAMINO?

I think the story of this film is really about the struggle to survive. It follows a man on the run who will truly stop at nothing to finally become free. What he has to do to become free gets pretty muddy, but he'll really stop at nothing to make that happen.

HOW DID IT FEEL TO STEP INTO JESSE PINKMAN'S SHOES AGAIN?

I was wondering if it was going to be as easy as it used to be to jump back into the skin of Pinkman. It has been so many years since I put on those shoes. But after reading the script, it was like no time had passed at all. I knew exactly what those moments were going to be, and how I was going to play them, just because I think that Pinkman is so inside of me.

Vince has such a unique way of creating a new experience with every single moment. He did it with Breaking Bad, he's doing it with Better Call Saul, and he's doing it with this. It just feels like I'm back home. It's different and it's something I've never done before, but it's also just so great.

WHEN DID YOU FIRST HEAR THAT THIS MOVIE MIGHT HAPPEN?

I heard about this project in New York. I got a phone call from producer Melissa Bernstein and she asked if I could get on a call with Vince some time that week, because he had something he wanted to run by me. I remember I was walking through the streets of New York and Vince called me and he said, 'I have an idea just kind of swimming around in my head at the moment, but I wanted to see if you would be interested first before I move forward'.

He told me what he was thinking and of course I said, 'Whatever it is, Vince, it's a yes'. I would follow him into a fire. I trust him that much. He said, 'I don't want to put the cart before the horse, but if I crack it, we'll do it. But I won't do it unless it's perfect'. And here we are!

HOW DID YOU FEEL WHEN YOU FIRST READ THE SCRIPT?

I was patiently waiting for the phone call from Vince saying that he was done. I really wanted them to drop it off at my house, because for the final 16 episodes of Breaking Bad, I had a ritual. I took my time with each episode. I had one or two glasses of wine during it.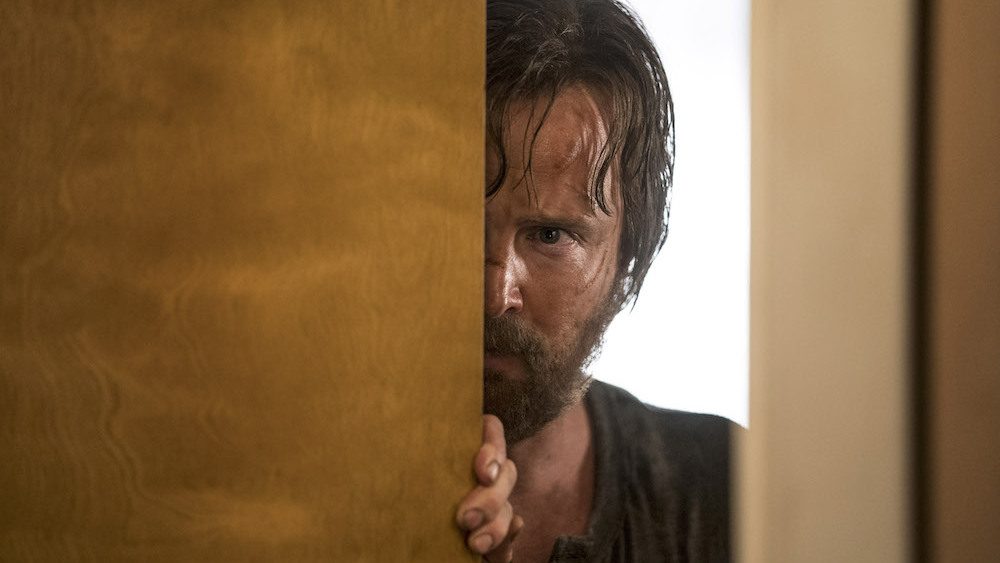 But in the end, Vince had me come to his office to read the script. I sat down alone and it was just so strange to see the script in hand and it just said, 'Vince Gilligan Special Project'. There was no title. It was so odd to read a story with these characters again, but it was thrilling.

WHAT INITIALLY EXCITED YOU ABOUT TELLING THIS NEW CHAPTER OF THE STORY?

Well, I knew that this story pretty much started where we left off in Breaking Bad. I had no idea where it was heading, so I truly knew nothing. I didn't know about any of the surprises that were in store and I was just along for the ride. My heart was racing through the whole thing and I read it straight through. I'm an emotional man and so it was definitely an emotional journey for me, and I think it will be for most of our fans.

Vince is exactly right. He would not do it unless it was perfect, and I truly think it is. I think our fans will be so thrilled to see this next chapter. I think that once they see it they'll realise that they needed it in their life. The show ended so flawlessly, but it really gives some closure for this character and for our audience.

HAS YOUR PERSPECTIVE ON JESSE PINKMAN CHANGED FROM THE PILOT TO WHERE WE FIND HIM IN EL CAMINO?

I honestly view Pinkman the exact same way. I think all the actors playing these characters in Breaking Bad just know them so well and that all stems from the incredible writing. It's just so well formed. I was happy to see that Jesse got away during Breaking Bad and I'm happy to see this follow up in his journey.

WITH EL CAMINO LAUNCHING ON NETFLIX, IT'S GOING TO BE SEEN ALL AROUND THE WORLD ON THE SAME DAY NO MATTER WHERE PEOPLE ARE. HOW DO YOU FEEL ABOUT THAT?

I think it's perfect that this film will be on Netflix for the world to see. It is truly because of Netflix that Breaking Bad is the show that it is today. I think it was the first new show they had that was still on air and was binge-able. They dropped three seasons at once right before we started airing our fourth season, and that was when our ratings went through the roof, and my private life was shattered!
I mean that isn't really saying that much is it? Just that Paul thinks it's gonna be really good and that it's really true to form and that Vince Gilligan is a genius, which are probably things that he's already said about a thousand times before. Still, stoked to find out how it all ends on Friday, that's for sure.
For more of the same, check out the trailer to El Camino here. Boy does it look beautiful.