Obviously it's not a good idea at all to practice incest, but if you're going to do that then it's probably better that you do it behind closed doors so that you don't end up getting caught.
Featured Image VIA
Unfortunately for 39 year old Justin Bunn and his 19 year old daughter Taylor, they just couldn't wait and were busted having sex in the back garden of someone else's house. Not really sure why that was the best location for the illicit tryst, but I suppose sometimes when the horn grabs you there's just no stopping it.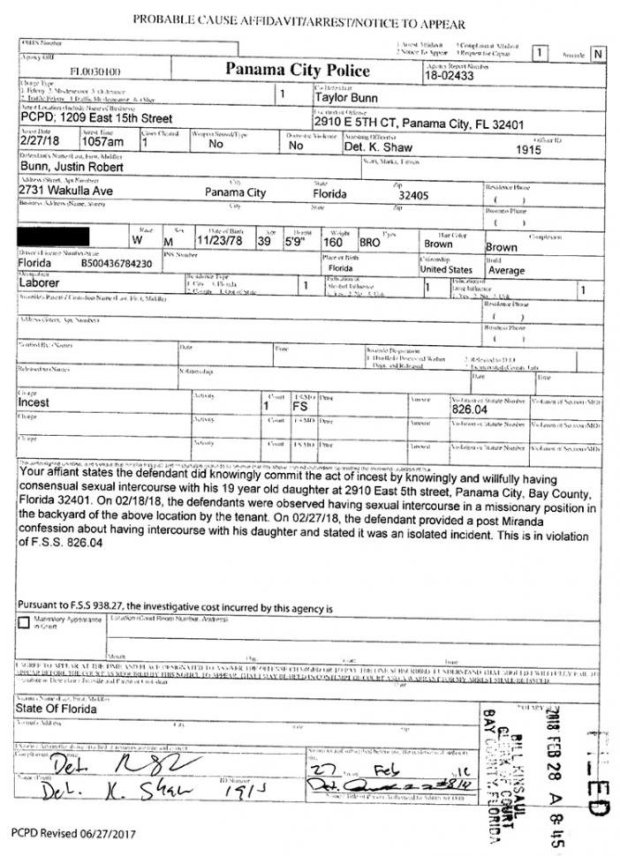 A police report explains that a witness spotted them having sexual intercourse in the missionary position in the yard, which was roughly three miles away from their house in Panama City, Florida (of course it was in Florida). The pair were arrested and Justin admitted that he had had sex with his daughter, but insisted it was an isolated incident. Taylor also made several references to having sex with her father as well.
Both of them were charged with incest and ordered to have no contact with each other. They're currently both jail whilst they away trial as they didn't have enough money to pay their bail bonds. What a delightful end to the story.
For more of the same, check out this woman who married her daughter six years after she had divorced her son. Weird.