This went down in 2013 but it's trending again today for some reason and it's so absolutely ridiculous I can't believe more people haven't heard about it. It's one of the dumbest stories I think I've ever written up on the site and a part of me still can't quite believe it's actually true, but the television footage seems to confirm that it is.
A 7 year old kid called Josh Welch from Baltimore was suspended from school after he shaped a pop tart into a gun (image above) and they took exception to it. Josh had the following to say about it:
Featured Image VIA
Everyone keeps asking me why I did it.

I don't know why I did it … I wish people would stop asking me about it. It'll probably go on for 45 years or something.

All I was trying to do was turn it into a mountain but, it didn't look like a mountain really and it turned out to be a gun [kind of].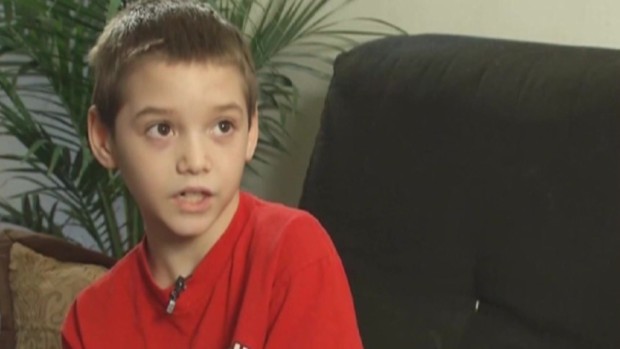 Image VIA 
Josh was suspended for two days because of this misdemeanour, which is already stupid enough to make a story but it gets even dumber when the National Rifle Association decided to get involved. Upon hearing about Josh's treatment, they immediately decided that he qualified for a lifetime membership. Obviously that's a completely normal reaction to a boy shaping a pop tart into a gun and being suspended from school AKA the worst example of propaganda in history.
Josh was presented with a $550 lifetime membership to the NRA by state House Minority Leader Nicholaus Kipke, R-Pasadena, during a midweek fundraiser for Anne Arundel County Republicans. Once he received the certificate he gave it to his parents and then went back to playing a video game on his mobile phone, probably wishing that everyone would shut up about it.
To prove that this actually happened you can watch a news report about it below, which literally sounds like it should have been on Brass Eye or South Park:
That's just too much to take. I literally can't believe that happened, any of it. Why did the school suspend him for that? What does the NRA hope it can achieve by giving this little kid a lifetime membership except looking like complete dickheads? Really really puzzling.
It's almost as dumb as the fact they actually have a National Gun Appreciation Day over there. Let's hope that Josh isn't attending that celebration anytime soon.