We ran a feature about 42 year old Carl McCoid and his 28 ridiculous Miley Cyrus tattoos a couple of years ago because it was one of the stupidest things we had ever seen, but we figured that the next time we heard from him it would probably be because he had added even more idiotic tattoos to his body. We never imagined that only two years later he would actually be doing the sensible thing and getting them removed.
Here's what Carl – who has even named one of his daughters Miley in a profoundly creepy move – had to say about his change of heart towards his body art:
I got my first tattoo of Miley after I was divorced in 2010, but it got to the point where it was getting obsessive..

Right now I have 29 tattoos done and have spent £2,800. I never thought I would regret it.

Miley said in a US interview that there's a dude that holds a record of the most pictures of my face and he has 18 pictures of my face and they're really ugly, creepy and sad.

It upsets me that I've been branded a stalker. I only wanted Miley to know how special she actually was as a person and as an idol.
Images VIA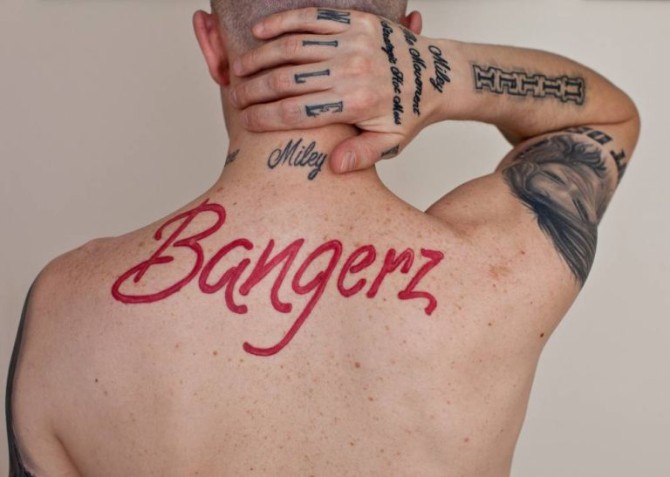 Well yeah, I'm sure getting 28 tattoos of her was going to achieve that and not make everyone think you were a complete and utter weirdo. Thankfully Miley's comments have made Carl see what an absolute bell end he was being and he's now pursuing the removal of his tattoos.
His efforts will be documented in a new Channel 5 show named Tattoo Disasters because of course it is. Carl hopes to achieve more luck in the dating department once they're gone as he's (surprisingly) currently single.
READ NEXT
Is This The Stupidest Tattoo Of All Time?
This Is Why Retards Shouldn't Tattoo
Top Seven Most Unfortunate Tattoos On The Internet Right Now