A 12-year-old boy who threw a rave in the bathroom at St Anthony's Catholic College in Urmston, Manchester, has had his equipment confiscated by teachers who shut down the rave after just 30 minutes.
Featured Image VIA
Cael Bell advertised the underground event on Snapchat a week earlier, with all in attendance at the lunchtime gig offered a Cadbury Twirl and bottle of Lucozade.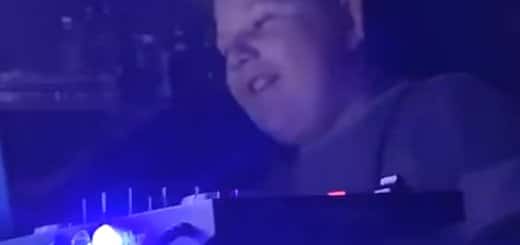 Cael, who was putting on a DJ masterclass, smuggled in his speakers and some other kit but was told off by party pooping teachers who put an end to proceedings.
His mum Louise told The Mirror:
I had to laugh. It has been a terrible year and I couldn't be angry with my son for trying to spread some cheer.

When I got the call, it made perfect sense. Cael had been up, dressed and ready to leave for school early that morning which was unheard of in our house.

He had the biggest smile on his face so I knew he had something up his sleeve.

Cael's dad thought it was hysterical, he said 'go on son'. We did have a conversation about whether or not we should be angry but how could we be?
Sounds like Cael has pretty awesome, supportive parents!
His mum also issued a statement on Facebook: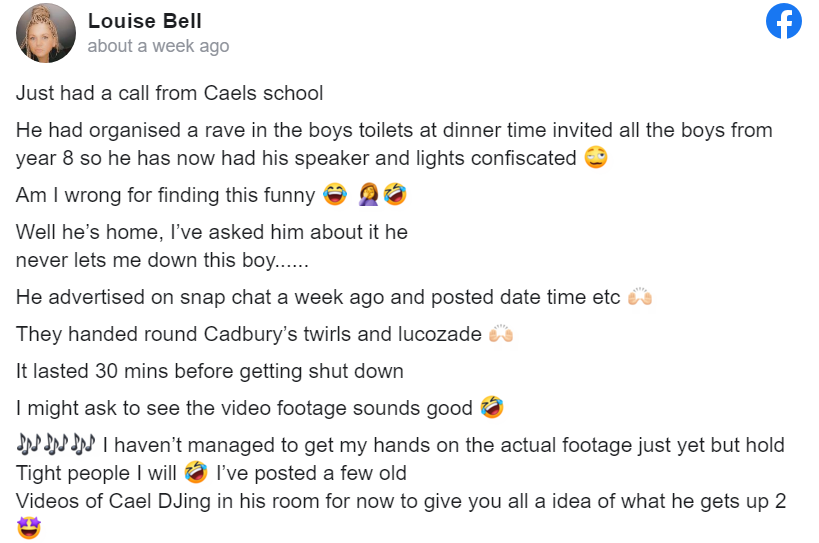 So while Cael might have got into a bit of trouble at school, it was totally worth it because his street cred is through the roof right now and his parents think he's hilarious. Every pupil who attended that rave is now texting each other trying to figure out how they can get on Cael's guest list for the next one, and you just know every Year 8 girl at St. Anthony's is lining up to get a piece of him.
What we really need to know is whether the school has returned Cael's confiscated equipment yet? He needs it to keep creating bangers like this Jingle Bells remix in his bedroom:
A true visionary ahead of his time. Go Cael Go!
To watch an amazing video of two students having a fist fight in the school bathroom while their mate takes a dump right next to them, click HERE. That's a detention right there, surely.