As far as bargain pizzas go, you can't really get that much better than Chicago Town for price and quality and it looks like they're surpassing their own reputation with the latest new product they're bringing onto the market.
Images VIA 
Their new Mac N Cheese pizza looks absolutely delicious and to get people interested in it, they're selling it for just £1 up until February 18th. Be warned though, it does come with slices of bacon in it which means that it's not suitable for vegetarians – everyone else out there should be cool though.
Here's the official press release: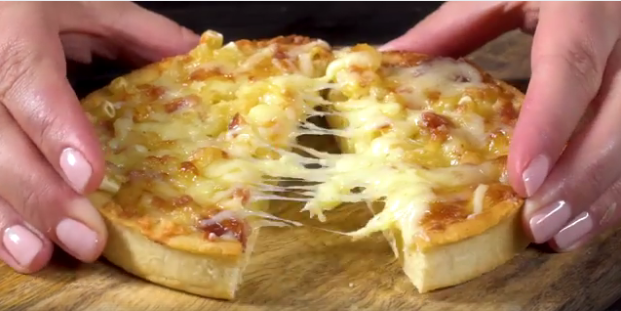 The tasty Mac & Cheese pizza combines the classic Chicago Town Deep Dish crust with a mozzarella and cheddar based Mac & Cheese topping with mouth-watering bite-size pasta pieces and yummy bacon bits.

Chicago Town's new American-inspired pizza offers ultimate versatility and is the perfect meal solution whether it's for a family dinner, quick lunch at work or tea time with the kids.
I mean it does look good and what have you got to lose when it only costs a pound for the next few days. After that it's only going to cost £2.39 which isn't exactly breaking the bank either, but you might as well take advantage of it whilst you can.
Apparently the pizza are only a limited edition flex as well and will be gone by September, so bear that in mind when you're stocking up on them as well. Probably need to get as many as possible in really there.
For more of the same, check out this fried chicken crust pizza. Dirty.