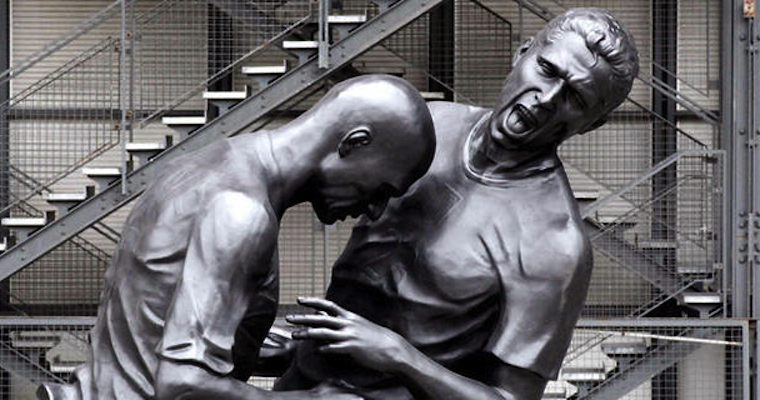 Everyone remembers the 2006 World Cup Final. I mean you remember most World Cup Finals but this one was extra special because it featured one of most talked about moments in world football ever about five minutes from its climax, where Zinedine Zidane ended his career by deciding to headbutt Marco Materazzi in the chest and subsequently getting sent off and possibly costing France the World Cup. I guess that last part is debatable but you would have bet on Zizou scoring a penalty wouldn't you?
Of course, despite the fact that Zidane did about a million amazing things in his career – winning the World Cup and European Championship and totally bossing it in both of those tournaments, winning the Champions League a couple of times with Real and a bunch of league and cup titles with Juventus and Real Madrid – the French have chosen to honour him not for any of these but for arguably his biggest failure – the headbutt on Materazzi. Sure, it's iconic and awesome and everyone knows about it but is it really that cool to make a statue of it outside the Pompidou art museum in Paris?
I guess it's easier to construct than a statue of his most famous goal and a lot more interesting than just a statue of him standing there or holding the World Cup or something boring like that but it still seems kinda weird they would glamorise it so much, especially considering they LOST the World Cup – you know, the biggest prize in football – moments afterwards and this was probably mainly due to the unsettling effect that this had on them as the rest of the players were just about to face the biggest test of nerves possible in the penalty shoot out.
The statue itself is 5m high and made out of bronze and was designed by an Algerian artist called Adel Abdessemed. Although I'm not really sure about it – I mean if John Terry had scored the winner in the Euros would we have got a statue of him being racist to Anton Ferdinand or fvcking Wayne Bridge's girlfriend? Or one of Wayne Rooney fvcking a granny? Or Glen Johnson breaking his fist by smashing it against a wall? ETC ETC – it does look pretty cool and I guess it just goes to show how well loved Zizou is over in France. So well loved that he can do something stupid like lose his country the World Cup Final and nobody even gives a fvck, they just erect a statue of him and his biggest screw up. You gotta admit that's cool. Here's a couple more pictures of it: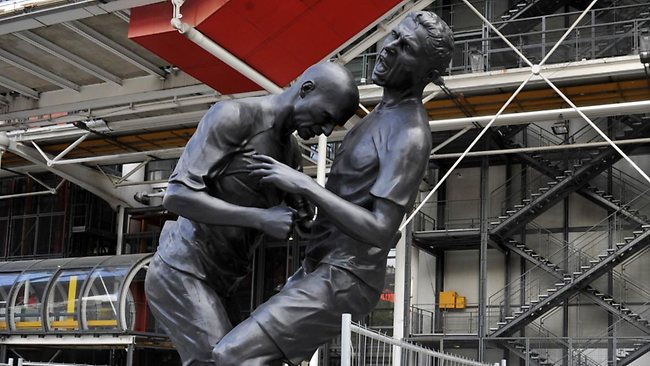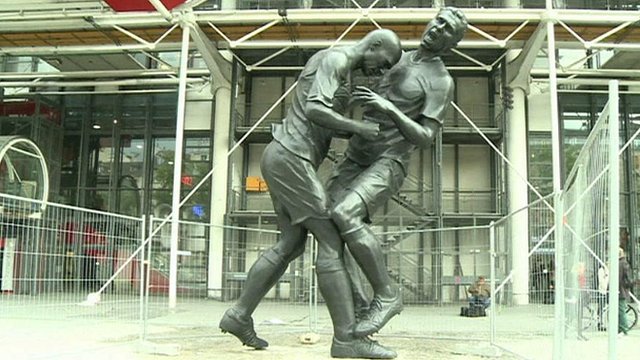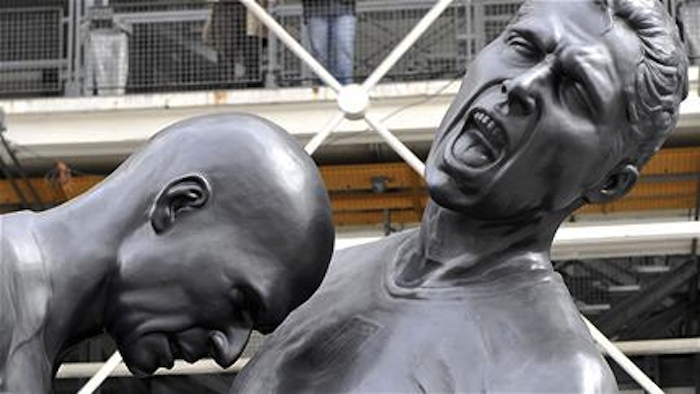 I've also really wanted to include this video on Sick Chirpse for a long time now but have never really got around to it or had anything I could post it on that was really that relevant. It's basically a really really stupid video of all the memes/gifs that emerged when Zidane's headbutt happened. So you get Zidane in Mortal Kombat using the headbutt as his finisher, Zidane in Pokemon using the headbutt against Materazzi, some Matrix/Star Wars references and a really weird bit where Arnold Schwarzenegger is looking at a computer screen looking pissed off and then he sees the Zidane headbutt and smiles. It's a really weird video, it's recommended to watch it whilst you're enjoying a zoot:
[yframe url='http://www.youtube.com/watch?v=yUjFRKWk6gQ']