You know when you're in an email chain and you accidentally hit 'Reply To All' when you meant to just reply to one person and a whole bunch of people see stuff that you just meant to send to that one person?
Featured Image VIA
That's definitely one of the worst feelings out there, but if it makes you feel better then just look at online retailer Zavvi's colossal screw up today and know that you'll probably never, ever do anything as bad as that. For some reason, whoever was in charge of their competition to win Champion's League Final tickets decided to email the entire database to tell them that they had each one a pair of tickets to the game. Whoops.
Obviously there was no way this was going to be easily rectified and it's been made even worse by the countless amount of people hopping onto social media to tweet that they had won the tickets and how stoked they were, only to find out that it was just a major screw up. Here are some of the best:
Hi @zavvi @zavvi_cs just received this email from you, is this real? 🤔 pic.twitter.com/pnT4TJVQv0

— Louise Brock (@louisebrock82) May 9, 2019
This… seems legit? Email address is a @zavvi one, doesn't give any dodgy links, asks me to manually log into the site.

Only thing is… I checked the Ts & Cs and you had to:

• Pay with Mastercard (I don't have one)
• Enter your email address on a competition page (I didn't) pic.twitter.com/pPhIGFTf0F

— Chris Scullion (@scully1888) May 9, 2019
So I received this email from the actual @zavvi email address and lost my mind shaking buzzing showed my customer rang my old man let him know we're going and turns out it's a marketing error. Devestated isn't the word I'm actually distraught pic.twitter.com/d7DGncIhrN

— Kierran Keens (@kierrankeens) May 9, 2019
Aaarghgh! My brother just excitedly called to say we'd one two VIP tickets to the Champions League Final with @zavvi only to now find out it was a mistake and everyone involved has been sent the same email!! Absolutely gutted but not as much as the employee who hit reply all 🤦‍♂️

— Phil Galloway (@philthyart) May 9, 2019
In for a penny… pic.twitter.com/JNOAnXVbLy

— Jon (@chaosmonkey1892) May 9, 2019
Lol. You would be completely and utterly gutted if you thought that was real after you received it though. I think most people with a brain would realise that they hadn't entered a competition and that it was probably a mistake before running off to tell their family or whatever though, just saying.
Zavvi did tweet the following half assed apology, but for some reason have now deleted it.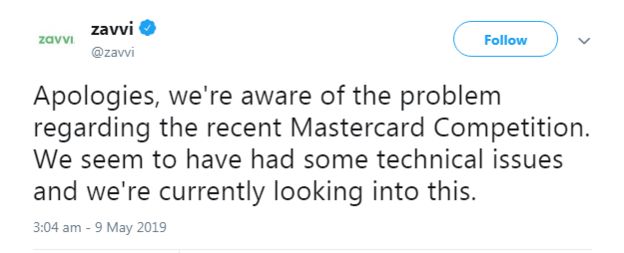 Lol a technical error sure – think we all know what happened there and that that employee is probably going to get their ass handed to them. Sayonara dude.
Some dickheads out there are already demanding compensation, but you've really gotta be a major gimp to try and get anything out of them for an issue that lasted all of an hour before you realised it was a mistake. Mistakes happen, move on and don't dwell on them. They happen to everyone.
For more of the same, check out this guy who was awarded £44,000 by mistake but instantly blew it on coke and gambling. Hero.