It's been a bit of a weird fortnight in the adult entertainment world. Firstly the British Board of Film Censors have banned UK porn from showing particularly jubilant team-building exercises such as spanking, fisting and female ejaculation. Prior to fun police shutting down the squirt brigade and making us Brits look even more prude than we actually are, PornHub thought that writing a festive music video for its scantily-clad cam girls to perform was a good idea. Although the song obviously isn't going to win awards or get near the charts any time soon, it's bound to be better than whatever Bob Geldof has cooked up with his merry band of Z-list celebrities.
Whilst everyone has been getting riled up about the ethics of jizz or singing along badly to "Coming For Christmas", everyone's favourite source for free smut YouPorn have decided that encouraging us to wank ourselves silly through our lonely lifetimes just isn't good enough anymore and have chosen to invest in a six-month sponsorship contract with the spanish eSports team formerly known as Play2Win.
Combining professional gaming with the adult industry sounds like a horny teenager's recipe for a great time but it honestly feels like the big dogs in the porn game are going through a mid-life crisis and are desperately grabbing for the attention of today's youth. Professional eSports – as in competitively playing video games for the chance of winning money, the respect of your peers and the disrespect of your family – is an ever-growing industry and has recently boomed in popularity over the last three years, with the League of Legends World Championship finals in LA's Staples Centre selling out in under an hour earlier this year. Evidently everybody wants a slice of the action and an even larger slice of the winnings.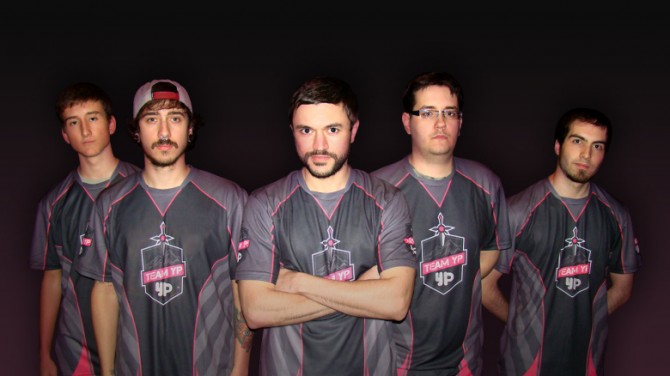 The terms of the sponsorship agreement include a name change from Play2Win to Team YP in preparation for the Gamergy competition that's currently happening in Madrid; presumably just in case the squad fail horrifically and therefore avoiding any unnecessary embarrassment and not just because "YP" is an acronym of "YouPorn". Although the word "porn" doesn't feature anywhere on the team's kit, the front of their shirts is emblazoned with an image of a hench-looking sword penetrating a mountain.
"We're so psyched to finally make our official entry into gaming and eSports," says Brad Burns, Vice President of YouPorn, in their press release statement. "This partnership has been a long time coming, and I believe that with our backing, along with the expertise that each member of Team YP brings to the table on the virtual battlefield, we can succeed in tearing through the competition at this year's Gamergy event."
YouPorn thrusted themselves into the news more than once this week following the launch of their new rapey web series, "Border Patrol Sex". As you can kind of guess from the title, the preposterous porno-programme focuses on some super sleazy border patrol officers catching illegal immigrants and forcing them to perform sexual acts in order to "teach them a lesson". Around 80% of women and children who cross the border are sexually assaulted and distastefully laughing in the face of every unfortunate soul who has been abused on the border between the US and Mexico isn't sexy, funny or cool unless you're a psychopath.
On a lighter note, Team YP have actually won their first ever match at Gamergy and we're celebrating by sitting on Santa's lap and seeing what's inside his sack. Not actually though, they're just some of the many awful lyrics from our new Christmas jam.