It's fairly rare that any of us order a bottle of champagne, but just imagine if you went out one night and there was a free vending machine that only dispensed bottles of champagne? I'm pretty sure everyone reading this would overindulge because why not right? YOLO.
Images VIA 
That very fantasy was an actual reality for some people last week, as Moet & Chandon unveiled a vending machine that did indeed dispense free 200ml bottles of champagne. Sure, 200ml is perhaps a bit on the small side when you could be drinking a whole magnum, but beggars can't be choosers in this situation and you've gotta be happy with it really.
Unfortunately, as you might have guessed, there were a couple of catches. Firstly, the vending machine was set up to celebrate the reopening of All Bar One in Leicester Square, – two places that I would avoid like the plague as much as humanly possible under normal circumstances – and secondly, that you could only operate the machine if you were personally chosen by one of the bartenders at the launch party. Again, that pretty much puts me out of the running completely to use this, as it probably does for any male reading this  too. Damn.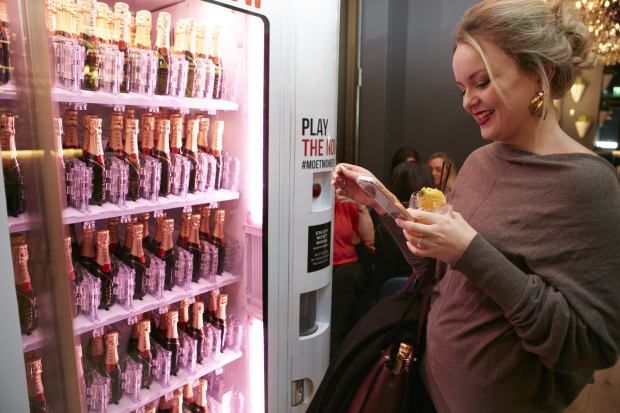 Oh well – at least we know that these machines do exist and may well be popping up at other events in the future. Or maybe they'll get some permanent fixtures all over the country soon – I imagine that you'll probably have to pay for them in the scenario, but that isn't all that bad I suppose. They're apparently already available for private hire, so if you've got any events coming up you might want to get on that.
If you need any more details, they hold 350 bottles of champagne and a robot arm grabs the bottle for you so you don't have to worry about it breaking when it falls to the bottom like in a traditional vending machine. Nicely done. I was pretty much sold on the fact that they were free champagne vending machines though.
There are currently rumours that the vending machines are making an appearance at the Moet & Chandon pop up at Selfridges in central London, but if you can't make it there then it might be an idea to get on at whoever organises your office Christmas party to rent one. No way that will turn out badly is there?
For more champagne, check out the dopest way to open a bottle of champagne ever. You're probably gonna need to know that too.