So, if you know anything about football and/or Emile Heskey then you might have heard that after he was released by Aston Villa this season after scoring about 1 goal in 100 matches for them (admittedly in some Mcleish made him play in central midfield, so maybe knock it down to 1 in 90 as a striker or something) that he signed for the Newcastle Jets down in the Australian A-league. The other marquee signing for the A league was Alessandro Del Piero who is now turning out for Sydney FC. Of course, the A-league is almost certainly really terrible so the jokes came thick and fast that Heskey might actually manage to score a couple of goals this season down under because of it being such a shitty standard. Nobody really held out that much hope though.
Unbelievably though, Newcastle Jets actually SOLD OUT of Emile Heskey shirts following the announcement that he had signed and they had to order 10,000 more. Then, if that wasn't unthinkable enough, the actual unthinkable happened as Newcastle Jets went up against Del Piero's Sydney FC and although both players scored, Heskey managed to come out on top as the Newcastle Jets managed to win 3-2. Heskey was fast becoming a fan favourite in Newcastle, so much so that the fans have at least two different chants about him: the classic 'he scores when he wants, he scores when he waaaaaaaants' and the more original 'Na na na, na na na na na, Heskey's bitch, Heskey's bitch, you are Heskey's bitch.' That's pretty unbelievable right? You probably don't believe it. Well here's a video from inside the crowd of everyone fvcking loving it down there:
☛ More: Emile Heskey Appears On The Rod Hull And Emu Show As A Kid
http://www.youtube.com/watch?v=Gkx_DY8yEvw#!
The crazyness doesn't stop there. For last night's match against Melbourne Victory, Fox Sports announced the arrival of the Heskey Cam – which is pretty much the equivalent of the old Player Cam feature they used to have on Sky Sports where you could follow one player around the pitch during a game, only this time there's no choice of players, it's just solely focussed on Emile Heskey. If anyone had ever told me that there would be such a phrase as a Heskey Cam I think I would have bet them one million pounds it would never have become a reality. They are fvcking crazy down under.
It gets even better when Fox Sports described the Heskey Cam: 'One man, one camera. Watch every movement of the Jets' English striker Emile Heskey as he looks to inspire his side to a win over a suddenly-resurgent Victory. Heskey Cam gives you it all: one camera, one hero; every pass, every run, everything Heskey does on the pitch, you'll see it first with the Heskey Cam, the dedicated broadcast providing a rare insight into what makes Heskey so good.' Yeah, 'what makes Heskey so good,' somebody actually used that in a press release about Emile Heskey. I'm speechless.
☛ More: Emile Heskey: The Powerhouse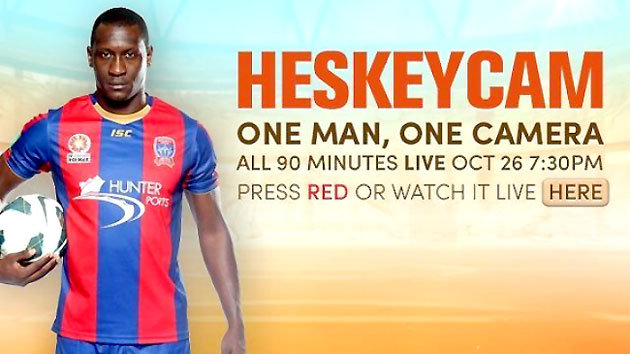 Of course, not one to disappoint his fans Emile Heskey made light work of the Melbourne Victory scoring BOTH goals in a routine 2-1 victory. One of them was a bicycle kick. No joke. That might be the most unbelievable thing in this whole article. Anyway check out both his goals below and remember you are Heskey's Bitch, Heskey's Bitch, you are Heskey's Bitch!
☛ More: It's Heskey Time
http://www.youtube.com/watch?v=oEfthg0Yt9w