They say that 21st birthdays should be memorable, but chances are nobody present will ever forget that of Babestation star Lucy Lorenzo after her career was revealed to her grandma and other family members at her 21st birthday meal  at a Toby Carvery thanks to a mouthy waitress.
It all kicked off when Lucy – whose real name is the decidedly unsexy Rachel Hobbs – angrily complained that the paper plates (paper plates!?!?) that were being used to distribute her birthday cake looked like they were dirty and had already been used. The waitress serving her wasn't happy about the criticism and screamed back at her 'well, at least I don't get my tits out on TV' before calling the police after Lorenzo got even angrier and started threatening her.
The cops calmed everything down and there were no charges pressed, with the Toby Carvery in Bromley waiving the restaurant bill and promising to discipline the member of staff responsible for the remarks. It's kind of a soft response from Toby Carvery but then it's a soft restaurant franchise and you do always have to adhere to the mantra that the customer is always right in the service industry, even if they're complaining about something as banal as the quality of the paper plates that you're serving their birthday cake on.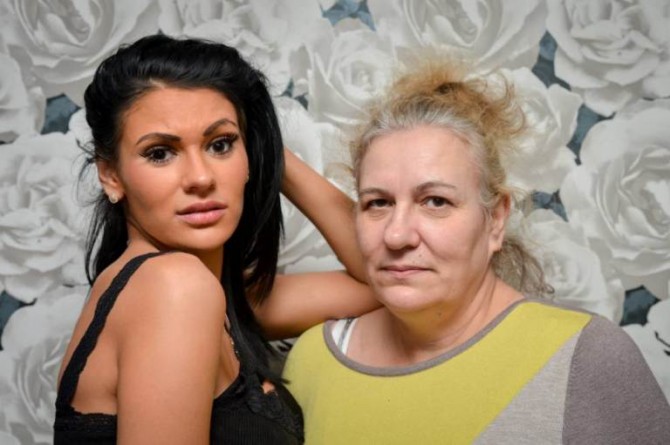 Speaking about the incident, Lorenzo had the following to say about it:
They gave us dirty plates. They had bits of dried food stuck to them.

When I said 'Excuse me, these plates are dirty', the staff had such bad attitude that they just grabbed them back.

I said 'That is not very good customer service' and the waitress shouted out in front of everybody 'At least I don't get my t**s out on TV'

The restaurant manager was right there. She shouted it in front of him and he did not know what to say.

'It's so unprofessional to do that for someone, especially when you can see it is their 21st birthday because there are balloons saying that on the table.

'It's just my job. My nan didn't even know about my job until then but they obviously knew who I was in there.

I just wanted to go there because I really enjoy roast dinners. It was so messed up.

It ruined my birthday. I was crying. I just wanted to have fun on that day.

For the rest of my life, I am always going to remember being insulted by some stupid little idiot on my 21st birthday.
I'm sure we can all agree that's a real shame for her, although it doesn't sound like it was as bad as Justin Bieber's 19th birthday party. Clearly, though the most shocking thing about all of this is surely that someone would spend their 21st birthday at a Toby Carvery? Even if you really enjoy roast dinners there must be somewhere better to go in the whole of Bromley for one rather than a Toby Carvery? Maybe even your family might have surprised you and cooked you one if they knew of your love for them? I mean surely you wouldn't even want to spend a hungover Sunday there unless it was absolutely necessary, let alone one of the most important birthdays of your life, right? I mean they can't even afford real plates for your birthday cake FFS.