As you might know, Justin Bieber is currently doing a UK tour (4 sold out nights at the O2 Arena in LDN this week OMG) and loads of little (and large) girls and boys are going super crazy mental about it because OMG it's Justin Bieber and he is such a babe and so sexy and so cool that they just have to scream their little hearts out and run around London trying to meet him or whatever. It's nuts.
What you probably didn't know though was that it was also Justin Bieber's birthday over the weekend and he was turning 19. Of course he was gonna celebrate by partying at some stupid hip club in London – paying a cool ten grand for a circus themed bash at Cirque Du Soir –  but it doesn't look like he had the best time. In fact, it seems like he had the worst birthday of his 19 years as he tweeted the following on Friday night:
☛ More Justin Bieber Controversy: Justin Bieber Caught Smoking Weed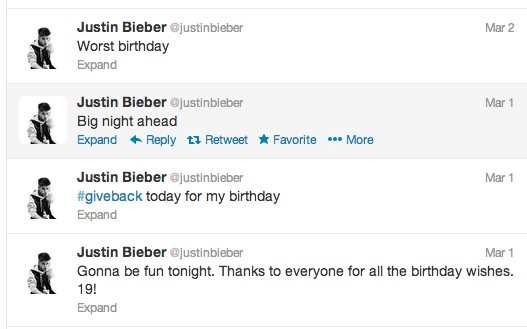 What the hell happened at his birthday party to make it so bad huh? Especially as he was looking forward to the 'big night' so much? Did he not get the Harry Potter toys he wanted? Was the club completely whack? Was his birthday cake a piece of shit? It turns out that it was a combination of a bunch of things but amazingly the main blame has to be laid at the feet of Jaden Smith and the fact that he was 14 and trying to get into a club.
I mean come on guys, maybe you can get into a club in somewhere like Bridlington or Hull or somewhere sketchy like Digbeth in Birmingham if you're 14 and know the right people but even if you're Jaden Smith you aren't going to be getting into any sick clubs in LDN or New York if you're 14. I mean even if it's Justin Bieber's birthday party you aren't going to be accepted, it's just not on.
But yeah instead of being reasonable about this because you know, it's a ridiculous request, Justin Bieber and his entourage just decided to shout at security and argue with them for ages, putting a real downer on the night and meaning that these guys had to leave the club pretty much 15 minutes after they entered it. Apparently there was never any mention of Jaden being at the club which really pissed off security and the club, although that sounds kinda dumb to me because even if they had known ahead of time that a 14 year old kid was going to show up I don't think it would have changed their policy towards him being in the club. I don't know why Justin Bieber would think that inviting a 14 year old friend to a club would not have been a problem though either? It's just a completely weird nonsenical assumption to make. I guess when you're Justin Bieber though you can probably do whatever you want.
☛ Justin Bieber Did What? JB Gropes A Belieber At A Meet And Greet 
So Jaden Smith ruined the party for Justin Bieber. Apparently everything would have been cool in the club if they just let him leave but Justin wanted to stay loyal to his great friend and so in a show of solidarity they all left the club. That's great. I'm surprised there wasn't something like #friendship going around on Twitter after that.
Instead of hitting up Cirque Du Soir, J Beebz and his gang – including Jaden Smith – hit up McDonald's instead and then went back to Justin's hotel to party instead. To be honest I think that sounds like a way better plan than hitting up some dumb club, but I guess I'm a bit older and when I was a teenager I probably thought the club was the best thing ever so they were probably pretty bummed out by this. At least they managed to have a cool birthday meal at McDonald's though. I wonder if Justin got a balloon or any other cool stuff?
And oh yeah, his birthday cake really was a piece of crap which probably didn't help his mood. Check it out below:
☛ Who Is Jaden Smith? Check Out His Surprisingly Good Rap Video